Columbia Heights Row Houses
Posted by Mark Washburn on Wednesday, August 3, 2011 at 8:11:07 AM
By Mark Washburn / August 3, 2011
Comment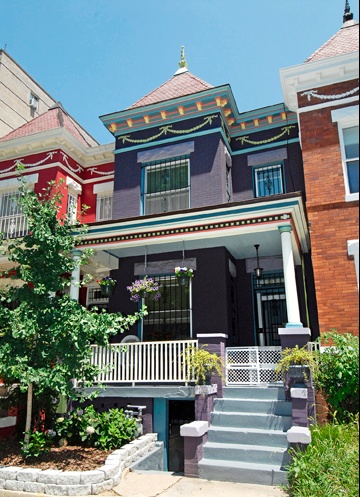 Victorian/Eastlake Style Row House
1535 Monroe St NW - listed for $645,000
Carmel Marchiatto to Starbucks…..Jim Graham to Ward 1.….The Captain to Tennille…..row houses to Columbia Heights …yes these are things that just naturally go together.
Significant portions of the Columbia Heights neighborhood was built in the late 19th and early 20th centuries and was dominated by row house architecture. The neighborhood offered middle-class Washingtonians single-family home ownership options along its row house lined streets. By 1914, Columbia Heights had four street car lines providing access to Downtown in less than 20 minutes.
Columbia Heights row house architecture included the following four styles:
Early Federal Style
DC's simplest row house usually two stories with limited decorative elements. Front porches are common with this style.
Victorian/Eastlake Style
Largest and most ornate design which often includes a turret and decorative front stoop rather than a porch. Three floors is common as are decorative lintels and ornate front doors.
Petworth Style
Influenced by mission styling and the automobile age, the Petworth style row house is the most common in the Columbia Heights neighborhood. These homes are often two stories with dormers built into an attic. Front porches are common as is a basement garage accessible from a rear alley.
Eclectic Style
Eclectic style row houses combine design elements from Early Federal, Victorian/Eastlake and Petworth Style homes. Eclectic styled rowhouses add character and individuality to their blocks.
Columbia Heights is a neighborhood where row houses are attainable as an alternative to a condo. Here is a resource to facilitate your search for a Columbia Heights row house.