Columbia Heights---A Diverse and Hip Neighborhood in Northwest DC
Posted by Mark Washburn on Thursday, May 2, 2013 at 1:21 PM
By Mark Washburn / May 2, 2013
Comment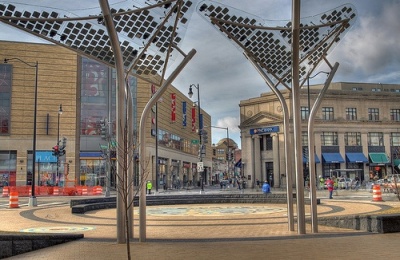 A vibrant neighborhood has sprung up in Columbia Heights amid a cluster of independent businesses, including hip clubs; wine bars; sidewalk patio dining; and indie movie cinemas.  This new hip strip features a cluster of independent businesses, re-vitalizing the stretch of 11th Street in the heart of Columbia Heights.  With the Columbia Heights Metro Station in the neighborhood, an influx of retail development and luxury condos, Columbia Heights has become a trendy new neighborhood where charmingly traditional meets the latest urban planning.

As a dynamically evolving neighborhood with new venues for performing arts and eateries, Columbia Heights has more than exciting new businesses.  Row houses and condominiums are situated on historic sites where you will see some of the most elegant early 20th century row houses in DC.  The lively neighborhood was recently featured in an article in the New York Times, where 11th Street in Columbia Heights was described as the "Hip Strip." 

In the last few years, Columbia Heights has come alive as a residential corridor with several condominium developments, including 1417 Chapin Street, NW # 508 in the "Denver" condominium building, a delightful 2 BR/2 BA/983 SF condo listed by TTR Sotheby's International Realty for $569,000.  This is a Top Floor condo with private roof access to a 2-level semi-private Roof terrace with panoramic views, and garage parking.  Ideally located near U Street or Columbia Heights Metro Stations, dining and shopping.  Pets are welcome.

If you are interested in learning more about owning in Columbia Heights, here is a resource to view Columbia Heights real estate.  Our team at DC Condo Boutique is available to help guide you through the process of finding the best possible neighborhood and residence for you.
Columbia Heights Condos For Sale