Clarendon Named Top Bro-iest Neighborhood
Posted by Mark Washburn on Monday, May 11, 2015 at 10:09 AM
By Mark Washburn / May 11, 2015
Comment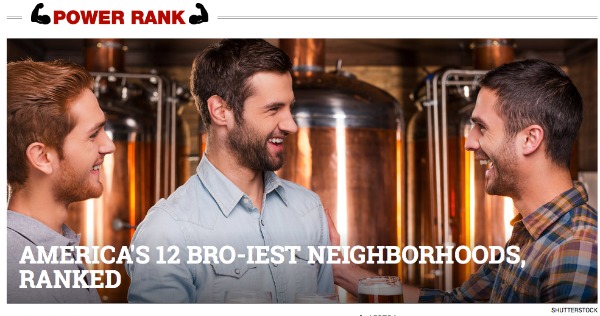 Clarendon, a lively neighborhood in Arlington, is also home to scores of newly minted college grads with first-time jobs who still enjoy Happy Hours, beer pong and hanging out with their former frat brothers. Thrillist, a men's lifestyle website, included Clarendon on its list of "America's 12 Bro-iest Neighborhoods," ranking #10. What's a bro? Urban Dictionary defines bros as "obnoxious partying males." Clarendon is in good company. Other neighborhoods making the list: Murray Hill neighborhood in New York City; Uptown in Dallas; Balboa Peninsula in Newport Beach, CA; and Wrigleyville in Chicago.

Recent college grads from Georgetown, UVA, Virginia Tech as well as from colleges across the country attract bros to Clarendon, a close-in neighborhood right across the river from DC in Virginia. During the day, these bros can be seen in their button down shirts and Ray Bans walking to the Clarendon Metro to commute to their jobs on Capitol Hill or downtown DC for policy or lobbying work, then head back to Clarendon for live music, new restaurants, clubs, bars, retail and lounges. Clarendon fits the bill as the center of Arlington, Virginia's nightlife and dining scene. It's right over the Key Bridge from Georgetown and is really full of young post-grad 20- somethings looking for fun. Clarendon has some of the top luxury condos, where you'll find many a Bro living.

Some of the top bars in Clarendon where you'll find aging frat dudes wearing boat shoes and preppy button down shirts gathering are: A-Town, a popular sports bar for football, hockey and basketball games, and featuring great Sunday brunch buffets, an outdoor patio, big-screen TVs and a DJ; Mad Rose Tavern, located at the intersection of Washington and Clarendon Boulevard with two bars, two dance floors, a large outdoor patio and an indoor lounge and dining area. A large beer selection and pub food plus big screen TVs for sports makes a happy environment for Bros; Guarapo is Clarendon's top hookah spot. Known for its vodka sugar cane cocktails and tapas, this is a popular hangout; Clarendon Ballroom hosts large dance parties where the venue can be rented out; Arlington Rooftop attracts many a Bro on its game nights; and Whitlow's located on Wilson Boulevard, where you can ride a bull, listen to live music on the rooftop and watch a great looking crowd. Bonus: It's just a block from the Clarendon Metro Station.