Cityline at Tenley - Live Above the Metro
Posted by Mark Washburn on Friday, December 9, 2022 at 12:45:25 PM
By Mark Washburn / December 9, 2022
Comment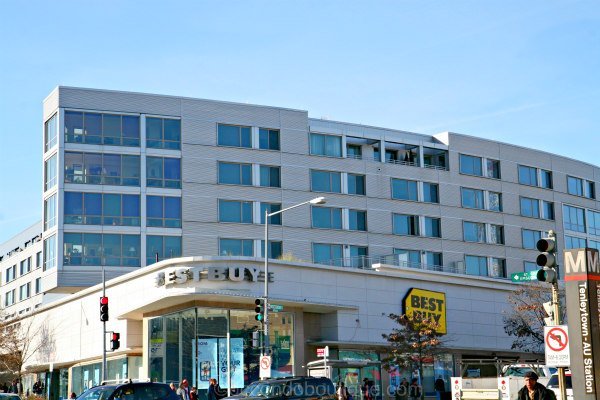 Many people choose to live within DC limits for the convenience, and you probably can't get more convenient than living right above the Metro. Cityline at Tenley sits right above the Tenleytown Metro in the city's historic Hechinger building on Wisconsin Avenue.
Originally built in the early 1940s as a department store, a developer took control of the building about six decades later with plans to remake the space into one of DC's very first major mixed-use, transit-oriented projects. The six-story, contemporary property now consists of around 200 condominium homes, plus another 88,000 square feet of retail space, and hundreds of parking spaces.
The location is ideal, as residents not only have the ease of living directly above the Metro, but the property also sits right across the street from some restaurants, a Whole Foods Market, and shops. Residents need only walk downstairs, however, to take advantage of a Target store or other major retailers.
As for some of the building's on-site amenities, Cityline at Tenley offers its residents access to a fitness center and 24-hour concierge service. Cityline also has a business center and two courtyards. In addition, you'll find some covered, garage parking available at Cityline.
While units of Cityline do sometimes come on the market, it's rare to find a unit with a courtyard exposure up for sale. You may, however, find a unit for lease in the building.
Prospective new residents fortunate enough to find a unit for sale or lease will likely discover a condo with an updated kitchen and floor-to-ceiling-windows. You will also likely find some walk-in closets, upgraded countertops and hardwoods, plus the advantage of in-unit laundry.
A junior one-bedroom unit at Cityline contains around 700 square feet of living space. A one-bedroom plus a den comes close to around 1,000 square feet of space.
Search Upper Northwest Neighborhoods