City Vista Location Had Colorful Past
Posted by Mark Washburn on Friday, October 1, 2010 at 7:38 AM
By Mark Washburn / October 1, 2010
Comment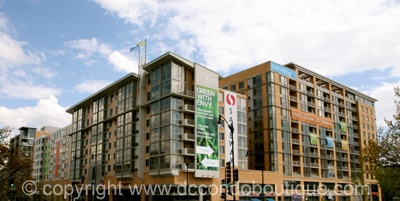 Most interesting blog post on the Streets of Washington blog about the colorful past of the parcel in Mount Vernon Triangle where City Vista is now located. This parcel was previously home to the District's first convention center. The first auto show in Washington's history was held at this location in 1900. In 1925, the second floor of this building was converted into 50 bowling alleys, thought to be one of the largest in the world at that time. Other interesting uses included an international food market and housing the National Historical Wax Museum. The old building had a date with the wrecking ball in 1985.

City Vista now proudly sits on this historic block bounded by K, L, 4th and 5th Streets. The size and scope of City Vista, made possible by a completely vacant city block, is truly a refreshing change from the typical infill construction so common in the District. There is some irony in the fact that supermarkets dealt the final blow to the international food market previously operating in the old building and now City Vista arrives with a Safeway supermarket.

City Vista is an FHA approved development with opportunities to purchase a condo for as little as 3.5% down. There are condos available for purchase at City Vista with 1 BR units starting in the the high $300s and 2 BR units starting in the mid $600s. Here is a resource to view active City Vista real estate listings.