Checking in on Rhode Island Avenue
Posted by Mark Washburn on Friday, August 25, 2017 at 7:54 AM
By Mark Washburn / August 25, 2017
Comment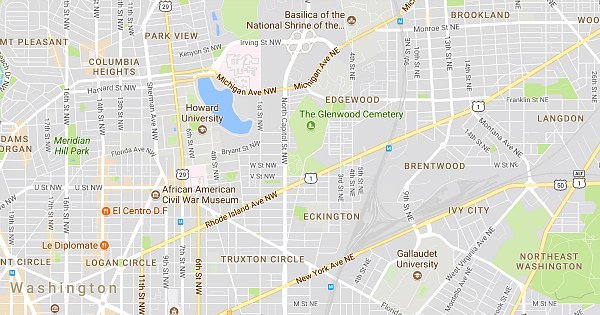 One of the original streets planned out for the capital, Rhode Island Avenue is now well known as a commuting route, taking drivers from Prince George's County and US Route 1 into the city. It's also quickly emerging though as something else, thanks to new and proposed development in the area.
Starting in Downtown Washington in the west, the avenue takes drivers past the Cathedral of St. Matthew, the Apostle, intersects roads such as Massachusetts Avenue, and heads into the neighborhood of Logan Circle. It then goes through several mostly residential neighborhoods, like Brentwood and Shaw. Serviced by the Metro's red and green lines at different points, Rhode Island Avenue eventually merges with Baltimore Avenue, continuing with US Highway 1.
More than just a popular roadway, Rhode Island Avenue is also already on track to development, thanks to new restaurants and retail. One particular section that's already added in commercial offerings is also in the process of adding dozens of new residential units to the area, which some say could attract even more businesses to the Avenue. Already, a number of new restaurants have opened along Rhode Island Avenue, or just off of the roadway.
This is in addition to a massive mixed-use development planned at the site of the old Brentwood Village shopping center. It's expected to include a town center with shops, retailers and green space, plus eventually upwards of 1,700 new residences. Phase 1 could also bring in affordable housing to seniors.
That's an important distinction, as some are concerned about issues such as the number of affordable rentals provided by developers with new building projects in the DC area. One proposed redevelopment plan proposed to go in next to the Rhode Island Avenue Metrorail station resulted in a legal battle, causing the developer to downsize its original projections.
As of now, the developer wants to construct upwards of 1,400 housing units plus retail space, including some affordable housing units, with construction beginning along the Avenue as early as next fall.