Chapman Stables Now Selling
Posted by Mark Washburn on Friday, December 8, 2017 at 3:44 PM
By Mark Washburn / December 8, 2017
Comment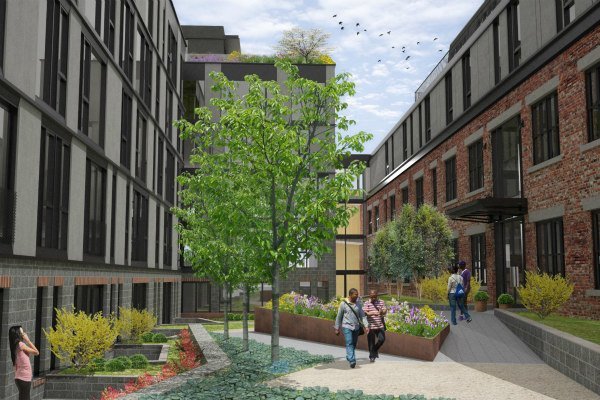 With a blend of historic detailing and modern amenities, Chapman Stables is now selling in Truxton Circle. This unique property dates back to the early 1900s, recently transformed into one of the area's most inventive condo conversions.
Originally the site of the Chapman Coal Company Garage and Stable, the property later turned into a warehouse, before sitting vacant for many years. Now listed on the National Register of Historic Places, the property has a new life, housing more than 100 luxury condominium homes.
In all, the newly reinvented property provides room for options in studios, one-, two- and three-bedroom condos, as well as an underground parking garage and retail space. Developers renovated the historic property, transforming the old two-story stable and warehouse into condo units, then adding on to create some outdoor space.
The lobby of the newly designed building sits in the old automotive elevator shaft, while a new construction, five story-building rises from a previously vacant lot in the back of the building, separated by a courtyard, and housing even more condos and commercial space. The newly designed space allows room for a rooftop pavilion, complete with entertaining space and a community kitchen, as well as grilling from the rooftop terrace. Some of units additionally provide their own private balconies and terraces, while there are also some two-story floor plans.
While developers left several historic architectural elements intact, the individual units celebrate a style that's more industrial modern, blending the two to create one of the most spectacular new housing additions in the region. Delivery of the new homes is expected in 2018.
The surrounding neighborhood of Truxton Circle makes it easy to enjoy options in shopping and dining. As well, Chapman Stables is located just a short distance from nearby transportation, making for a simple commute around the rest of the region.