Chapman Stables Breaks Ground in Truxton Circle
Posted by Mark Washburn on Monday, December 5, 2016 at 11:02 PM
By Mark Washburn / December 5, 2016
Comment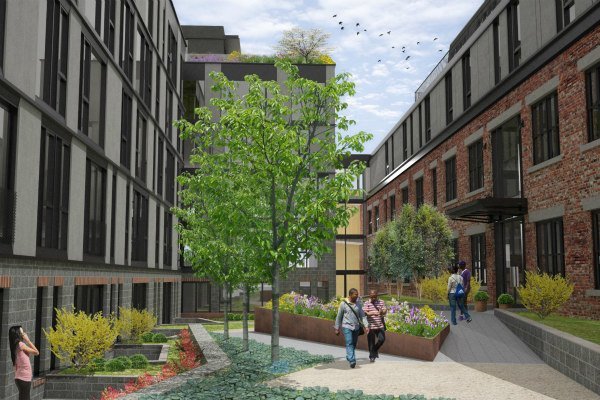 One of the DC area's most exciting new residential reuse projects just broke ground in Truxton Circle. Chapman Stables is a redevelopment plan aimed at turning an early 1900s-era horse stable and surrounding land into more than 100 new condo units for Northwest Washington.
Originally constructed as a stable, the structure was eventually turned into an automotive shop and warehouse before plans were announced to change the structure over to rentals, and most recently to condos. The latest plan involves transforming and restoring the building to house three-dozen units, along with adding a loft.
It also calls for the construction of a new five-story, L-shaped building next door on the site of a vacant lot. This building will house the remaining condo units. As well, the finished development will also include around 1,200 square feet of retail space.
The condos of Chapman Stables are expected to range in size from around 500 to 1,100 square feet, priced starting at around $300,000 to upwards of $1 million. Located only a few blocks away from a Metro station, the development will also feature underground parking.
Developer Four Points LLC expects condo sales to begin in spring of 2017, while the building itself boasts a delivery date of spring 2018. The decision to change the plans to incorporate condos rather than apartments is good news as most of the residential units currently under construction in the city are rentals.
Truxton Circle is known for its late 19th-century style homes and includes a number of area schools on the National Register of Historic Places. As well, the community offers plenty of playgrounds and parks too, such as Truxton Park. First named for a traffic circle that once marked the area, the community is reinventing itself and reemerging under its own identity after decades of being mistakenly referred to as one of the other surrounding communities in Northwest DC.