Cecil Place: Historic Georgetown Row Houses
Posted by Mark Washburn on Wednesday, April 20, 2011 at 11:58:45 AM
By Mark Washburn / April 20, 2011
Comment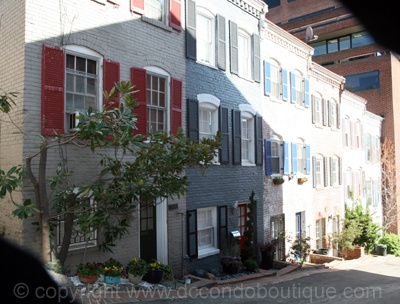 Cecil Place which runs a mere block in Georgetown between Grace Street and Water Street ranks at the top of the list of charming DC streets. Adding to the enchantment and reminiscent of San Francisco, the grade of Cecil is very steep and traffic flows one way downhill towards Water Street

The west side of Cecil Place is dominated by the Papermill Condo development and the east side is home to 12 historic row houses. These quaint row houses date back to the late 19th century when Georgetown was an industrial neighborhood and home to many of the District's tradesmen.

Currently, one Cecil Place row house is listed for sale. It features a renovated kitchen, fireplace and a rear courtyard. This three level, 2 BR / 1.5 BA row house is listed for $799,000. Here is a resource to view active Cecil Place listings.