Car2Go Targets Expansion to Arlington and Alexandria
Posted by Mark Washburn on Monday, February 24, 2014 at 11:13 AM
By Mark Washburn / February 24, 2014
Comment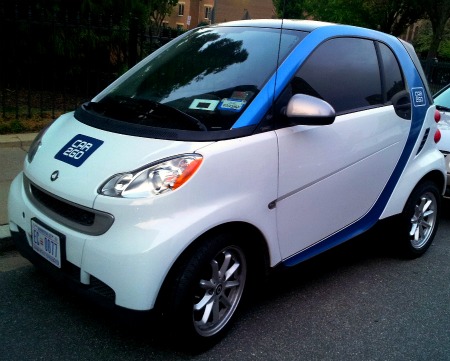 After years of having to return their cars back to DC following a day or partial day in Virginia, Car2Go customers who frequent destinations in Arlington and Alexandria are launching marketing and social media campaigns to get the same convenience in Northern Virginia.  With hopes of expansion, this would allow car-sharing customers of Car2Go to be able to drop off their cars in Virginia. 

Car2Go is owned by Daimler, the car company that also owns Smart cars, with locations in 25 cities across the globe. The company's service has more than 26,000 members in DC and a fleet of 400 cars.  Car2Go is different from its rival ZipCar in that ZipCar is for hourly rentals and definite point-to-point return time and location.  Car2Go, on the other hand, allows you to take the car and leave it wherever you want, as its being monitored, and you do not have to return it to the original location at a specific time.  For Daimler Car2Go, there is no annual membership fee, just a $35 application fee.  There is an hourly, minute or daily rate.  The blue-and-white two-tone cool Smart cars give its customers an easy urban mobility and quick trips, no advance reservations, and car sharing that cover gas, insurance and parking fees.

Car2Go executives in the eastern region of the U.S. understand that many of their DC customers live in Virginia or have appointments in Virginia and would like the convenience of returning their borrowed cars in Virginia as well.  Car2Go is in negotiations with both Arlington and Alexandria Counties for permission to operate in these markets.   Negotiations with Car2Go municipalities usually involve agreements over parking meters and permits---which is likely not a problem in Arlington or Alexandria.  We are hopeful that negotiations proceed smoothly and this convenient service is soon available the in Northern Virginia.