Capitol Quarter Townhouses
Posted by Mark Washburn on Monday, May 10, 2010 at 12:06 PM
By Mark Washburn / May 10, 2010
1 Comment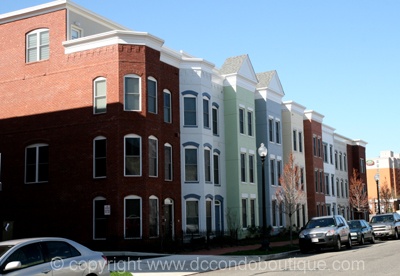 Classic Washington-style row houses now line Fourth,Fifth, K and L Streets SE in the location where the troubled Arthur Capper/Carrollsburg housing project was previously located. Capitol Quarter is being developed by Bethesda-based EYA, known for urban DC infill projects including the popular Bryan Square Townhomes and Harrison Square Townhomes projects.

Capitol Quarter arrived on the scene with great fanfare, which included several individuals camping outside the sales office for several weeks to get the first shot at the available phase I market rate units. Phase I of the project has sold out and Phase II units will be available for sale this summer. Factors drawing customers to this development include proximity to the Metro, Capitol Hill, Nationals Stadium, the Anacostia River and 8th Street's shopping and dining options.

At present, one Capitol Quarter town house is available for resale. It is a 4BR / 4.5BA unit with a private roof-top deck listed for $1.2M. Here is a resource to view active Capitol Quarter MLS listings.