Capitol Hill Converted Schoolhouses
Posted by Mark Washburn on Monday, February 22, 2016 at 9:58 AM
By Mark Washburn / February 22, 2016
Comment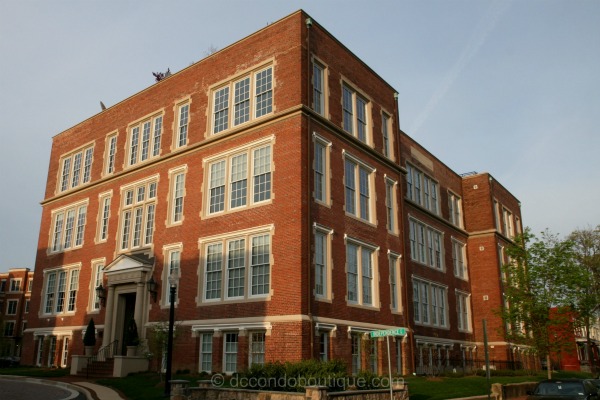 Capitol Hill is full of historic buildings, and one trend that has become more pronounced in recent years on Capitol Hill is the repurposing of historic schoolhouses into converted luxury condominiums and townhomes.  The blend of the old with the new is appealing for urban dwellers who honor traditional facades and update home interiors.  The buildings celebrate traditional elements while recognizing a preference for contemporary upgrades and luxury.  We put the spotlight on a few classic former schoolhouses on Capitol Hill, and present historic buildings with sophisticated living for homebuyers seeking boutique condos and townhouses in a central location.  Capitol Hill is walking distance to several Metro Stations, the U.S. Capitol and congressional offices, restaurants and shopping.  Capitol Hill residents range from young professionals to mature couples downsizing.
Bryan School Lofts
Bryan School Lofts, like many of the Capitol Hill conversions, features spacious floor plans, light-filled interiors with tall windows and soaring ceilings. Distinguishing features, include exposed brick and beams, hardwood floors, chef's kitchen, granite countertops and spa bathrooms.  The historic building, built in 1906, is a 4-story landmark with 20 condo units located on a private cul-de-sac.  Condos average at least 2,200 square feet, and some units have private patios, terraces and decks.  Amenities include private parking for all homes, Concierge service, elevator, pet-friendly, additional storage space, and a rooftop deck with sweeping city views.  Bryan School Lofts is located on Independence Avenue, SE, between Kentucky Avenue and 14th Street.  Residents can walk to Potomac Metro Station. 
Carbery School Lofts
Carbery School Lofts is a historic building located on 5th Street, NE, between D and E Streets.  Served by Union Station Metro Station, residents can walk an easy distance.  Completed in 1890, the 3-story building has 23 condo residences with contemporary interiors, a traditional façade, and amenities, such as Concierge services and parking.
Edmonds School
The award-winning Edmonds School was built 100 years ago and converted into a 3-story building with 4 luxury townhomes and 20 luxury condos, ranging in size from 500-1800 square feet; townhomes up to 4,100 square feet. It incorporates traditional elements like exposed brick and soaring ceilings, authentic lofts, floor-to-ceiling windows, recessed lighting, Bosch appliances, Silestone countertops, European cabinetry, Waterworks faucet and shower fixtures, with modern building amenities, such as onsite parking, elevator, and outdoor community deck.  The townhomes feature classical design, exposed brick, hardwood floors, premium windows, 10'ceilings, recessed lighting, Viking and Bosch appliances, breakfast room, and private roof terraces with views of the U.S. Capitol Dome.  Edmonds School is located on the corner of D Street and 9th Street, NE, and walking distance to the Union Station Metro Station. 
Lenox School Lofts
Lenox School Lofts is a 4-story, 14-unit condo residences located on 5th Street, SE, between G and I Streets.  Residents can walk to Eastern Market Metro Station.  Lenox School Lofts is pet-friendly.  Logan School is a 3-story red brick schoolhouse over 100 years old converted to 24 condos located at 3rd and G Street, NE.  Many units have wood-burning fireplaces, and the distinguished building is within walking distance of Union Station Metro Station and the U.S. Senate Office Buildings. 
Lovejoy Lofts
Lovejoy Lofts is a turn-of-the-century converted schoolhouse located at 12th Street, NE, between D and E Streets.  The 3-story building has 54 one and two-bedroom condos from 870-1,300 square feet.  Amenities include reserved parking in a private lot, exposed brick, high ceilings, and oversized windows.
Search DC schoolhouse conversions…