Burleith-- Hip Baby Brother to Georgetown
Posted by Mark Washburn on Friday, June 26, 2020 at 1:13 PM
By Mark Washburn / June 26, 2020
Comment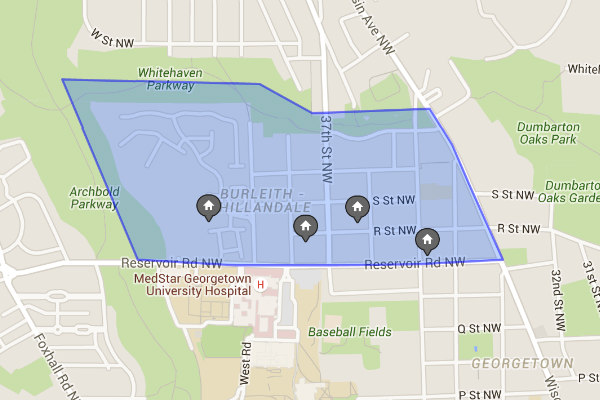 It may not have the name recognition as neighboring Georgetown, but some might say Burleith is Georgetown's hip baby brother. If you enjoy the offerings and convenience of Georgetown, the completely residential neighborhood of Burleith provides a seemingly more modest, and slightly more affordable alternative to its pricey neighbor.
Unlike the Victorian row houses of Georgetown and Dupont Circle, you'll often find brick houses on corner lots, with modest, yet distinguishable, row houses constructed in between. Many of the homes of Burleith were built in the 1920s.
While this is the more traditional architecture of homes throughout the neighborhood, you will also find a range of other architectural designs, including some Tudors that date back to the 1930s. The homes, however, do share some common features.
Generally, homes in this neighborhood are well-maintained. Although the floor plans are usually smaller than what you might find in the suburbs, the neighborhood of Burleith is certainly appealing.
With hundreds of homes to choose from, some buyers are drawn to Burleith because its close enough to its more affluent neighbors, yet it's also more affordable too, without giving up the convenience. A short commute and nearby amenities are both major draws of living in Burleith.
While not technically part of Georgetown, residents of Burleith do enjoy living just minutes away from the shops and businesses of Wisconsin Avenue. The neighborhood is also conveniently close to the Glover Park commercial area.
As for its own offerings, Burleith is home to the acclaimed Duke Ellington School of the Arts. It is also home to the Corcoran College of Arts and Design.
You will find a mix of residents in the neighborhood, from long-time homeowners to students and young professionals. Many of these residents play an active part in neighborhood clubs and in helping to maintain the appeal of the neighborhood for new and prospective residents.