Buchanan Park Now Selling in Hill East
Posted by Mark Washburn on Monday, November 14, 2016 at 9:10 AM
By Mark Washburn / November 14, 2016
Comment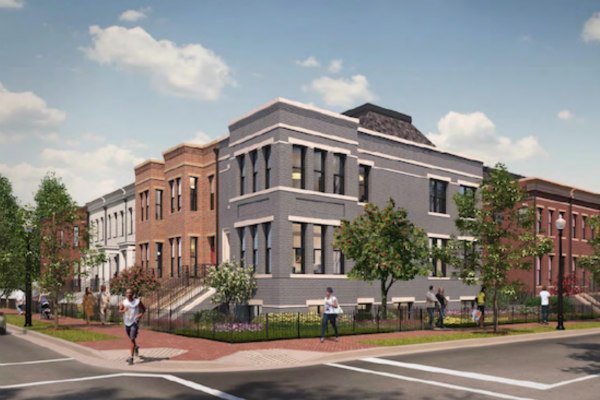 Uniquely designed to incorporate historical architecture with new, more modern design elements, Buchanan Park is now selling townhomes in Hill East. The new collection of homes is currently for sale surrounding the old Buchanan School building, a landmark site in the community for generations.
While the former late 1800s school building has recently been redeveloped to house one-, two- and three-bedroom condos, nearly three-dozen three- and four-bedroom townhomes have been constructed to line the surrounding property, known as Buchanan Park. The townhomes are noted for their comfortable and open floor plans, with plenty of natural light infused throughout the homes.
On track for an early 2017 delivery date, common features and finishes of the homes include the large kitchens with stainless steel appliances, plus white oak flooring, dedicated parking and an enviable roof terrace, providing the option of outdoor living and entertaining space. Some homes also feature a wrought iron fenced-in front yard.
Noted as a neighborhood within a neighborhood, the development of Buchanan Park offers its residents a number of outdoor gathering areas, connected via pedestrian walkways to the surrounding neighborhood and offering a central green space for the enjoyment of owners and visitors alike. As well, the brick exteriors of the homes help blend with the rest of the community, as a sense of old and new designs concepts are used together to bring additional new construction, residential options to the region.
Located at 13th and D Streets Southeast, the development is simply a short stroll from the Metro, plus also close to numerous dining, shopping and entertainment options in the DC area. Hill East is widely regarded as a more affordable option to Capitol Hill real estate, while remaining comfortably close to all of its opportunities. Because the neighborhood is primarily residential it's easy, too, for locals to simply walk to the surrounding commercial districts.
Here is a resource to learn more about Buchanan Park real estate options.