Brookland Rising in Northeast DC
Posted by Mark Washburn on Friday, October 11, 2013 at 10:11 AM
By Mark Washburn / October 11, 2013
Comment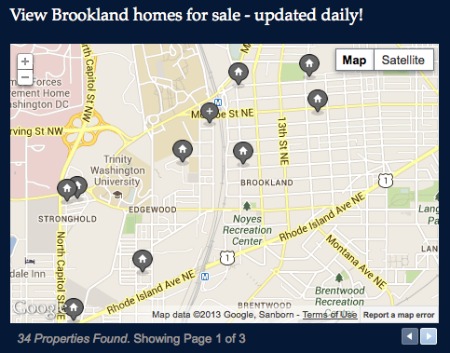 Residents in Brookland, located in the northeast quadrant of DC, praise the neighborhood for its friendliness, diversity and easy commute to downtown. If you are looking for a more affordable alternative to Capitol Hill, Dupont Circle or U Street, Brookland should be on your list as you house-hunt in DC. It is easy to get around DC from Brookland since it is served by its own Metro Station, the Brookland-CUA on the Red Line. Buses frequently run throughout the neighborhood. Downtown by car takes 12 minutes and 15 minutes to Reagan National Airport.

Many reasonably priced detached single-family homes in colonial, bungalow and Victorian styles with large yards can be found here, as well as row houses and duplexes. The area has a suburban feel to it. Brookland is an up-and-coming neighborhood with several mixed-use developments under construction that will house new stores, restaurants, and art studios below residential units in the area's peaceful streets. The development will bring lots of new residents, as well as new gathering spots over the next couple of years.

Historically a diverse community, Brookland has been racially integrated since the 1930s and has attracted some prominent African American homeowners, like entertainer Pearl Bailey, poet Sterling Brown, Nobel Peace Prize winner and political scientist Ralph Bunche, and Senator Edward Brooke. Long-time homeowners boast about the neighborliness of Brookland, which has its own neighborhood chat site as well as a host of business and civic associations, and coffee shops.

In Brookland, 12th Street serves as the neighborhood's main shopping district. New shops and restaurants, as well as a hardware store and dry cleaners, line 12th Street. Other businesses found in Brookland include The Dance Place; Yes! Organic Market; The Brookland Inn; Chocolate City Beer Brewery; a graphic design studio; salons; florists, and interior decorating stores. Plenty of green space and parks remain in the area, which includes Turkey Thicket Recreation Center, Catholic and Trinity Universities, a Franciscan Monastery and the Shrine of The Immaculate Conception. Within a short drive of the neighborhood, you can visit the beautiful gardens of the U.S. National Arboretum.

Brookland is bounded by Rhode Island Avenue to the south, South Dakota Avenue to the northeast, Michigan Avenue to the northwest and 9th Street to the west. Here is a resource to explore the Brookland real estate market.