Boutique Condos Slated for 14th and R
Posted by Mark Washburn on Friday, November 20, 2009 at 12:44 PM
By Mark Washburn / November 20, 2009
1 Comment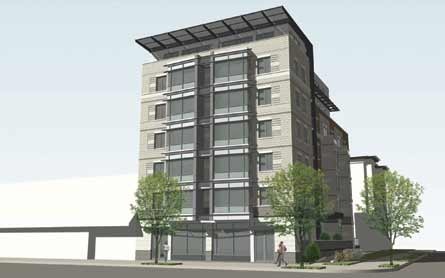 Rendering by Bonstra | Haresign Architects
The Washington Business Journal reports on the sale of a vacant lot at the corner of 14th and R Streets in Logan Circle. Plans call for a 7-story, 30,000 SF development including 32 luxury condos and 3,000 SF of retail. The project has been patterned in likeness to the showrooms which formerly lined the "Automobile Row" section of 14th Street. Our office, Hounshell Real Estate represented the buyer.
This location at 1638 14th Street in Logan Circle is a hot corner and primed for development. Competing projects in close vicinity include The Matrix at 1529 14th Street and the loft developments on the 1400 block of Church Street including Lofts 14 and Lofts 14 Two.
This project is a Bonstra | Haresign Architects design and has been approved by both the DC Board of Zoning Adjustment and the Historic Preservation Review Board. Other notable Bonstra | Haresign designed projects include Citta 50, Solo Piazza and Q14.