Bike Beltway Envisioned for DC
Posted by Mark Washburn on Monday, January 14, 2019 at 2:53 PM
By Mark Washburn / January 14, 2019
Comment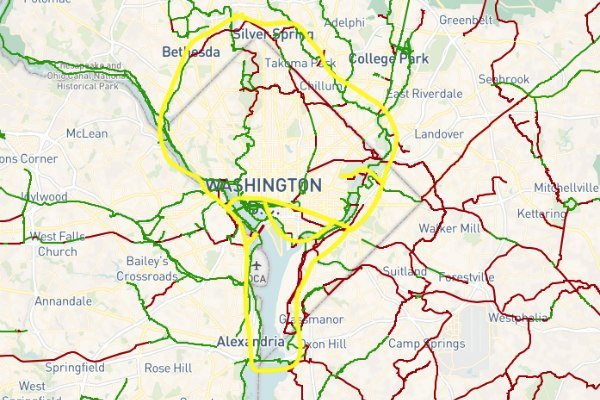 Graphic: Capitol Trails Coalition
A "Bike Beltway" could someday become reality for the DC area. Transportation planners are currently working on a visionary plan to construct not only a large biking loop but also a regional bike trail network that connects up with the surrounding suburbs.
The 60-mile loop alone encircles the entire region, taking cyclists through Maryland, Virginia and DC. The plan involves using interconnected trails running from the Arlington County-DC border down to Alexandria, and then continuing on into the Maryland suburbs. While some trails already exist, the plan involves filling in the gaps, and upgrading sections of some of the existing trails along the way.
Its part of a much larger plan, however, aimed at improving the region's cycling infrastructure, potentially connecting up the loop with other trails in the region to create an even larger biking trail network spanning hundreds of miles. It's hoped the fully connected bike trail network could become reality by 2045.
The loop was first proposed nearly three decades ago, and planners say there's a real need now for connecting bike trails in the region. Past estimated suggest more than one million people already live and work within about two miles of existing regional trails.
Planners want to use connector trails to make it easier for people to reach work, Metro stations and even their homes. Some estimates suggest the local population could grow by more than one million additional residents in the next two to three decades, and a bike beltway could potentially be one way to help manage future congestion.
Nationwide, bike commuting is on the rise, with at least one study finding that its grown about 130-percent in DC just over the last decade or so. While things like air quality and a better commute definitely play into the plan, proponents also cite the need for additional options in recreation and exercise for the DC area.