Beltway Traffic Blues: Is it Time To Move Downtown?
Posted by Mark Washburn on Wednesday, August 22, 2012 at 3:36 PM
By Mark Washburn / August 22, 2012
Comment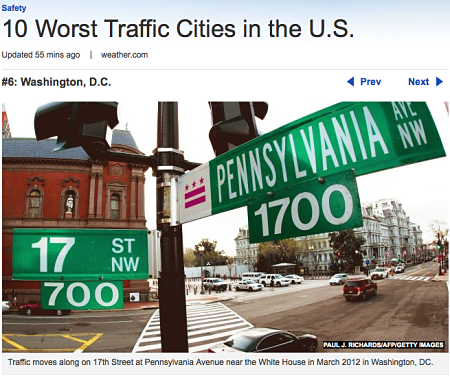 The DC Metropolitan area was recently ranked as having the 6th worst traffic in the country in a study conducted by weather.com. The Beltway was cited as a major source of congestion and DC drivers spend an average of 45 hours idling in traffic every year. The worst traffic time of the week is on Thursdays from 5:45 to 6:00 pm.

If you are one of those fighting rush hour traffic from your home in the suburbs to work downtown, maybe its time to look at moving into the District. The housing stock of the District has evolved significantly in the past decade and it is now possible to replicate many of the favorable attributes of a suburban home in the city. Gone are the low ceilings, galley kitchen, laminate floors, formica cabinets and nonexistent amenities of your Nixon/Carter/Reagan era first apartment in the District.

Clients that we have assisted with a move from the 'burbs into the District have been most pleasantly surprised by the generous, usable outdoor living space that is now available in newer District projects. These are not those skinny balconies with room for 2 under-sized chairs turned sideways, but rather true outdoor rooms with space for a grille, hot tub, couch or more.

Our team here at TTR Sotheby's International Realty is available to provide consultative support to anyone pondering a suburban to urban move within the DC area. We have in-depth neighborhood and development knowledge and can help focus and streamline your process.