Bellevue Getting Noticed
Posted by Mark Washburn on Thursday, July 7, 2022 at 9:59 AM
By Mark Washburn / July 7, 2022
Comment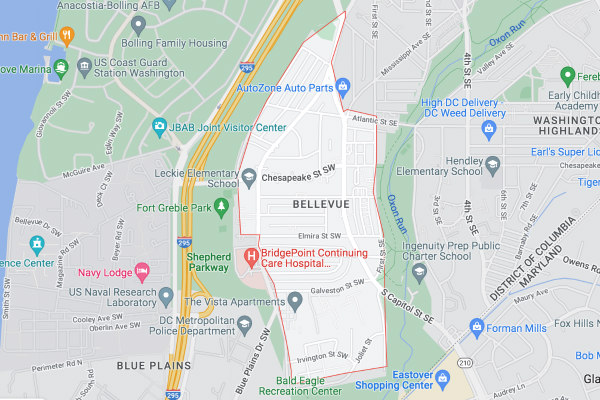 New development is headed to Bellevue, as further proof the neighborhood is getting noticed for its future potential. Located close to the Maryland border, the mostly residential, Bellevue neighborhood offers a quiet, suburban setting with large yards and semi-detached homes.
About 10 years ago the local library reopened after a complete renovation. The improved library sits within walking distance of some of the homes of Bellevue, including some on Brandywine Place.
The Bellevue neighborhood offers a mix of residents, including retirees and some younger people, too. Homes don't usually come on the market very often on this street, but those that do tend to be semi-detached homes that were built around the Mid-Century mark.
In recent years, a new Good Food Market opened on South Capitol Street. The developing business corridor also includes a primary care clinic and nearly 200 affordable and supporting housing units.
The two new housing complexes are still in the early phases of development, but plans call for the inclusion of the South Place Apartments and the Flats at South Cap, both of which will be built on South Capitol Street. Development plans for the future also include making improvements to the local rec center in Fort Greble Park.
The Department of Parks and Recreation has $2 million earmarked for modernizing the Fort Greble Recreation Center in Southwest Bellevue. The park currently includes things like basketball courts, a community garden, a splash pad, and a playground.
The Bald Eagle Recreation Center could see some improvements of its own later this year. The parks and rec department has another round of funding slated for making improvements to an athletic field there.
The future could also bring a dog park to Oxon Run Park. Around $750,000 is available to fund the very first dog park in Ward 8, with plans and designs for the new dog park expected as soon as this fall.