Barracks Row is Thriving on Capitol Hill
Posted by Mark Washburn on Sunday, May 26, 2013 at 7:34 AM
By Mark Washburn / May 26, 2013
Comment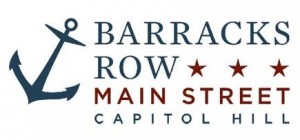 Just eight blocks from the U.S. Capitol, Eighth Street, SE, also known as Barracks Row, has turned DC's oldest commercial corridor in DC into a thriving, vibrant commercial district with scores of diverse dining options and retail shops.  An $8.5 million streetscape investment has transformed Barracks Row into a pedestrian friendly urban corridor with bricked sidewalks and shady elm trees lining the streets.  The revitalization of the area because of a solid commitment by its business alliances has given Barracks Row a new identity as a restaurant and shopping destination.

A professional, yet progressive Capitol Hill neighborhood, Barracks Row attracts 30,000 federal employees by day; another 17,000 residents and visitors at night.  It is close to Washington Navy Yard and the U.S. Marine Corps Barracks, for which it is named.  Historic Eastern Market, a local destination for residents and tourists, is located just across Pennsylvania Avenue, which adds to retail and restaurant foot traffic.  The five blocks of Barracks Row stretches from Pennsylvania Avenue, SE to the end of 8th Street at the Washington Navy Yard.

A street full of successful shops, restaurants, sidewalk cafes and unique retail, Barracks Row is easily accessible by DC residents and day visitors.  There are many transportation options: DC Circulator route connects to Union Station (Red Line Metro Station), Eastern Market (Orange/Blue Metro Station), Navy Yard Metro Station (Green Line), and two Capital Bikeshare stations.

There are a handful of residential streets in the Barracks Row neighborhood that are lined with traditional DC row houses.  Here is a resource to view Barracks Row real estate listings.