Arlington Tops for Runners in 2020
Posted by Mark Washburn on Wednesday, September 2, 2020 at 2:40 PM
By Mark Washburn / September 2, 2020
Comment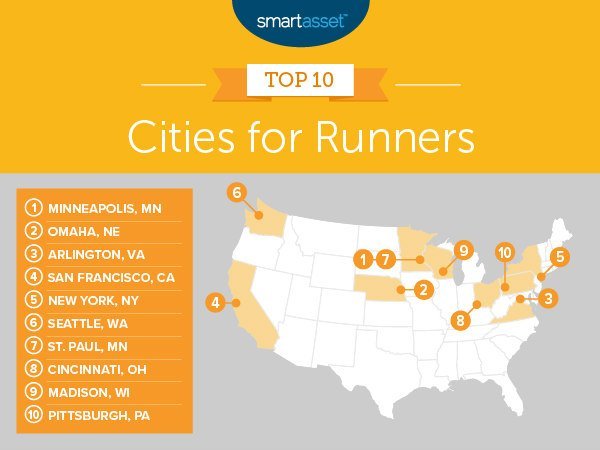 Graphic: SmartAsset
As the pandemic stretches on, more and more people are looking for a way to exercise. For some, that means lacing up their running shoes.
In particular, the financial company SmartAsset found cities in the Midwest seem to be especially popular with runners. While Minneapolis and Omaha took the website's top two spots for 2020, Arlington followed close behind.
For several reasons, SmartAsset, put Arlington close to the top of its list when it comes to "Best Cities for Runners- 2020". This is the fourth year in a row that SmartAsset has come out with its annual list. For the past two years Arlington has hung onto first place.
While third place is hardly something to feel bad about, some of the other cities on the list this year edged out Arlington based on having a higher percentage of parkland. Last year, however, SmartAsset praised Arlington for having plenty of places for runners to train.
It noted that nearly all Arlington residents live within a short 10-minute walk from the park. The website also mentioned Arlington's livability.
As for 2020, Arlington did extremely well in a number of categories. Of the 95 cities in the study this year, Arlington took second place for the number of gyms per 10,000 residents. That was one ranking above last year when Arlington came in third place for that category.
It also did well for its walk score and for its housing costs when taken as a percentage of income. In a normal year too, Arlington hosts a number of different races. Last year Arlington topped the list when looking at the number of races it hosts.