Arlington Top City Nationally For Runners
Posted by Mark Washburn on Monday, April 23, 2018 at 11:15 AM
By Mark Washburn / April 23, 2018
Comment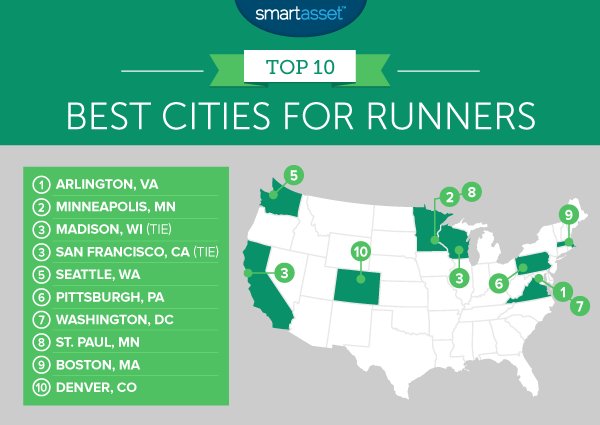 With miles upon miles of paved and unpaved trails to choose from, Arlington maintains a strong reputation as one of the top cities in the nation for runners. It's not just the trails, however, that provide high marks for Arlington.
According to SmartAsset, the personal finance-based website behind the rankings, the high marks also have to do with how many races the city hosts, the number of gyms, plus things like walkability and safety. In addition the study ranked factors such as how may residents have easy access to area parks and the amount of overall parkland contained in each city.
In Arlington, the numbers translate to about 98-percent of residents having access to area parks, a high number of gyms and the most races per population of any city on the list. Although found right outside DC, Arlington actually exists in a category all its own when it comes to the factors pushing it to the top of the list for 2018.
Arlington County boasts nearly 50 miles of paved trails alone. In addition, runners also have the option of venturing off the beaten path with more remote trails in locations such as Dawson Terrace Park or Donaldson Run Park. There's also the option of both paved and unpaved paths at Lubber Run Park or the lengthy Washington & Old Dominion Trail.
The Four Mile Run Trail, in particular, is popular not only with cyclists but also popular with runners and walkers. It's just one of the major trails that runs throughout the area, making an ideal spot for runners, walkers and cyclists, alike.
Cities at the bottom of the list for 2018 included those with low walkability and little parkland. This is the second year for the study, with Arlington bumping down the previous top cities of Madison, Wisconsin and Minneapolis, Minnesota to second and third place.