Arlington Top City for Millennials
Posted by Mark Washburn on Friday, July 27, 2018 at 6:17 AM
By Mark Washburn / July 27, 2018
Comment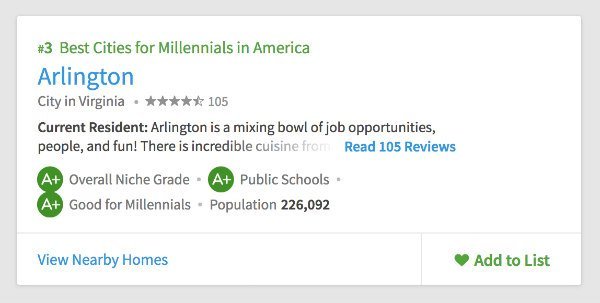 Graphic: Niche.com
Celebrated for its diversity, its schools and its nightlife, Arlington is definitely an appealing choice for new residents, most specifically millennials. In fact, Niche.com recently gave Arlington one of the top spots when it comes to Best Cities for Millennials.
According to the website, Arlington easily takes the number three spot, behind Cambridge, Massachusetts and San Francisco. It's noted that Arlington receives an overall grade of an A+, when taking all categories into consideration.
The majority of Arlington neighborhoods also received at least an A grade, with such notable mentions as Waycroft/Woodlawn, Chain Bridge Forest and Albermarle Glebe. Dozens of area neighborhoods ranked high, though, often noted for their easy access to available nightlife and for family appeal.
It's suggested that many area residents hold at least a Master's Degree, while job opportunities in the area are diverse. Meanwhile, it's also pointed out that Arlington, as a whole, has various options easily available concerning shopping, dining and nightlife, while at the same time maintaining a location just a short commute away from DC. That's certainly a plus, as DC also ranks high on the list for millennials. A personal finance website recently ranked it in the prime spot, especially for young adults.
According to WalletHub, DC takes the top honor in terms of millennials when looking at such categories as quality of life, economic health and education. As well, the ranking also takes into account other things such as voter turnout, volunteer rate, personal earnings and the cost of living.
While DC does rank low in terms of affordability, it receives the very top spot for quality of life, plus health and education. It also receives a moderately high mark for economic health. The DC area is no doubt a powerhouse when it comes to politics, yet also retains a strong following when it comes to young professionals.