Arlington Named Top City for Successful Women
Posted by Mark Washburn on Monday, April 30, 2018 at 12:34 PM
By Mark Washburn / April 30, 2018
Comment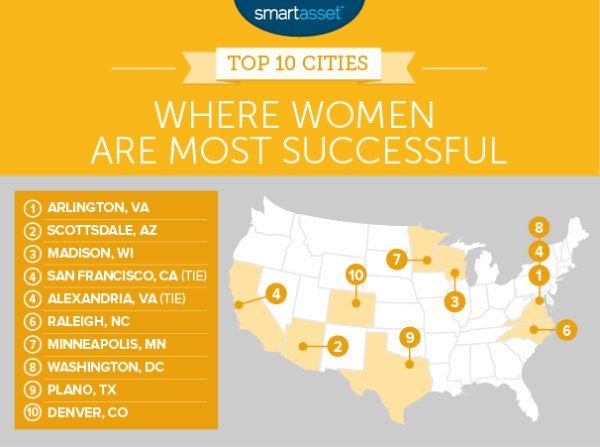 No doubt there are smart, successful women in every city and town across the nation, but in measuring success, at least one study found that women living and working in Arlington do especially well. At least that's according to analysis performed by researchers attached to the website SmartAsset.
Researchers started out by looking at six particular factors. These included the unemployment rate of women in the area, the percentage of women with high incomes in the area, in this case at least $75,000, and the average housing cost when taken as a percentage of a woman's income for full-time employment.
The other categories looked at included the percentage of women-owned businesses in the city, the median earning of a woman who works full-time and the percentage of women in the city that hold a bachelor's degree. Arlington came out in the number one spot overall, noted for paying the highest salaries to women, according to Census Bureau data.
The median full-time salary for a working woman in Arlington is more than $80,000, far higher than most other cities that were studied. Researchers found that nearly 60-percent of women in Arlington earn at least $75,000 per year.
In addition, nearly 35-percent of women in Arlington hold a bachelor's degree and many own their own business. The city does rank lower, though, when it comes to cost of housing. Analysts found the average full-time, working woman in Arlington with a home pays on average about 30-percent of her income for housing.
Two other metro-area cities also performed well. Alexandria tied for number four while Washington, DC took the number eight spot. Other cities to rank in the top 10 cities for successful women, according to SmartAsset, include Scottsdale, Arizona, Madison, Wisconsin and San Francisco, which tied with Alexandria when taking all categories into consideration.