Arlington Named Best Place to Retire
Posted by Mark Washburn on Friday, July 1, 2016 at 10:26 AM
By Mark Washburn / July 1, 2016
Comment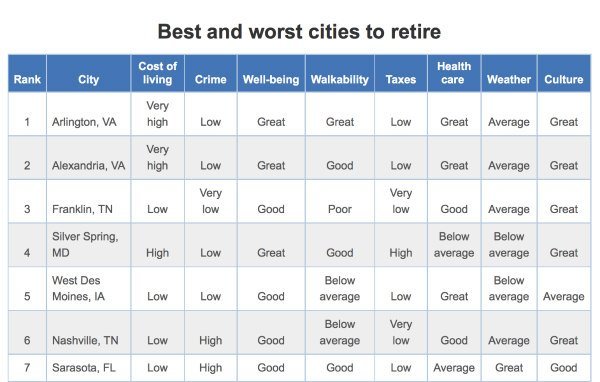 Already ranked the very best city in America to live based on things like education, real estate and nightlife plus one of the best suburbs in the entire nation, it now turns out Arlington is a pretty great place to age gracefully, too. A recent ranking by Bankrate puts Arlington in the number one spot when it comes to the best cities to retire. That's significant because according to a separate Bankrate poll about half of people ages 50 to 64 would at least consider moving to another city or state when they retire.
The city gets high marks for its low taxes and crime rates, plus its health care, culture and walkability. While unfortunately Arlington only gets an "okay" for weather and a "very high" for cost of living, neither of the two categories were enough to knock the city out of the number one spot.
Other nearby cities that also came in with a high ranking were Alexandria, which came in at number two, noted for its low taxes, great health care and low crime, plus Silver Spring at number four with great culture and overall great well-being. In comparison, Washington DC made the number 33 spot for great well-being and walkability.
The list takes into account data collected from 196 cities across the nation, and then ranks the cities in categories it deems most important to retirees. That's how the group came up with things like taxes, cost of living and health care as some of the most important considerations.
While some of the cities on the bottom of the list had a better cost of living they received low marks for categories deemed equally important or even more important to retirees, such as average or poor rankings in health care and below average in the overall category of well-being.