Arlington Named America's Most Handsome City
Posted by Mark Washburn on Monday, December 23, 2019 at 1:03 PM
By Mark Washburn / December 23, 2019
Comment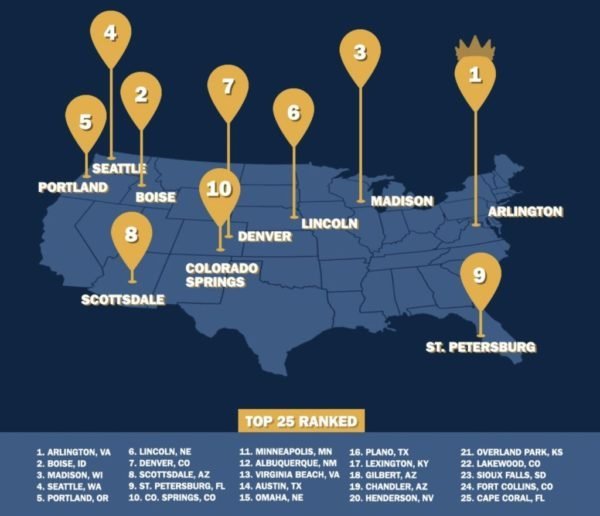 Graphic: Grooming Lounge
It's already known as a great place to live, but Arlington now has something else to brag about. A new study by a DC-based men's grooming company just declared Arlington the nation's most handsome city.
The ranking comes from Grooming Lounge. While ranking one location as more handsome than another may appear to be purely subjective, the company says it dug deeper to measure the male population's commitment to looking good.
The company says it took into account how much men living in the area shelled out for their shaving needs, including personal-care products and services. Researchers broke it down into how much each man spends individually on grooming and on apparel.
While Scottsdale, Arizona men actually spent the most money on clothing, personal care services and other items, Arlington wasn't too far behind. The company also took into account how fit a city is, and that's a category that likely helped push Arlington to the very top spot.
Earlier this year the American College of Sports Medicine ranked Arlington as this year's "fittest city". Arlington came out at the very top of its 2019 American Fitness Index based on things like exercise.
Not to be outdone, the online review service Niche previously ranked Arlington the "Best City to Live in America", thanks in part to its great public schools, its walkability, its nightlife and its low crime rate. In the past Niche has separately ranked Arlington County public schools as tops in the state and ranked Arlington high on the list when it comes to the "Best Suburbs to Live in America".
It's the third year that Grooming Lounge has come out with a list of the "Most Handsome Cities" in the United States. Other cities to rank high this year included Boise City, Idaho, Madison, Wisconsin, Seattle and Portland, Oregon.