Arlington Millennials are Nation's Highest Earners
Posted by Mark Washburn on Wednesday, March 2, 2016 at 10:48 AM
By Mark Washburn / March 2, 2016
Comment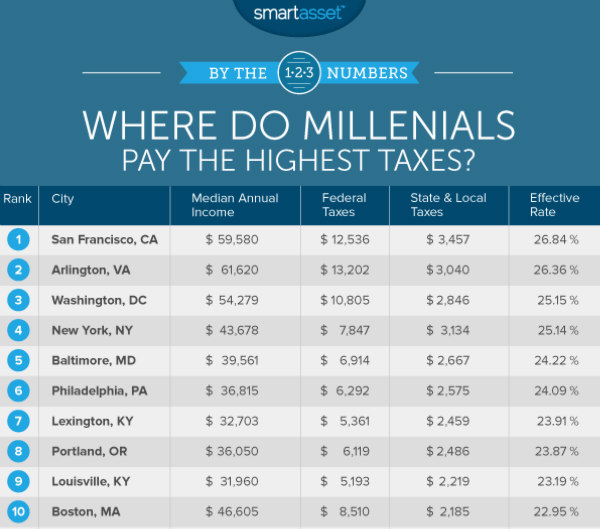 The richest Millennials in the U.S. live in Arlington, Virginia.  The website SmartAsset reports that this age group of 18-34 year-olds have a median income of $61, 620 in Arlington, which makes them the highest earners in the Washington, DC metro area as well as the entire nation.  So that's the good news; the bad news is that these high earners pay the second highest federal income taxes of any County in the country.  The average Millennial pays over 26% (exactly 26.36%) of their income in taxes, according to the website SmartAsset.  Arlington is known for its highly educated and tech savvy residents.  Arlington residents like the ease of accessibility to DC with several choices of modes of transportation, including the Metro.  Many Millennials are house hunting for luxury condo buildings with Concierge desks, gyms, bike storage, and locations near yoga studios, bike lanes, pubs, and bakeries, like they find in Arlington.  It's a place with lively sidewalks, walking trails, and a Whole Foods in Clarendon.

Given their high earnings, 18-34 year old Millennials in San Francisco landed at No. 1 for paying the nation's highest taxes at 26.84%.  Rounding out the Top Five was: DC, New York City, and Baltimore.  The state income tax in Virginia is not as high as that of California, so most taxpayers pay a top marginal rate of 5.75%.  This adds up to a little over $3,000 in state taxes for a Millennial in Arlington earning a median income. The study by SmartAsset concludes that no other city in the U.S. has wealthier Millennials than Arlington.  As the richest Millennials in the nation, Arlington residents have changed the demographics of Arlington from a solid middle class city into a community of starter homes for Arlington's Millennial boom.  

Condos have been scooped up over the past several years.  Young adults have transformed and enriched this close-in suburb just across the Potomac River from DC.  Arlington is a solid area that has lured this generation of young adults with its walkable neighborhoods, and very convenient transportation options with Metro stations, easy access to highways for commuters driving to work, and bus lines.  While Arlington has always drawn a lot of young people, the Millennial generation born between 1980 and 2000 is a big population group.  A recent census shows that 25-34 year olds compose roughly 27% of Arlington's population.