Arlington is America's Fittest City
Posted by Mark Washburn on Friday, June 1, 2018 at 10:48 AM
By Mark Washburn / June 1, 2018
Comment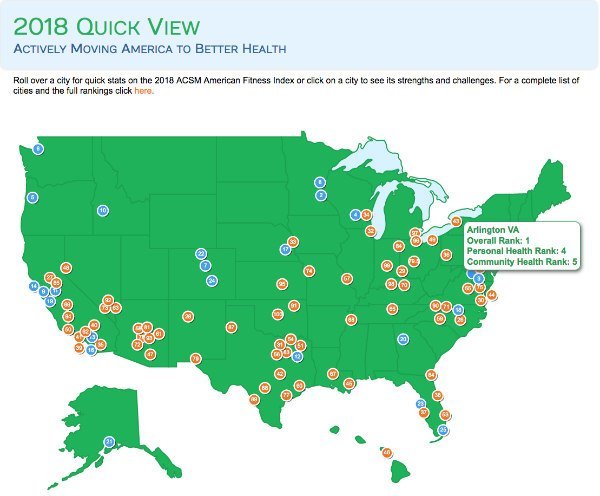 Arlington just picked up another top award, this one connected to being named America's fittest city for 2018. The designation comes from the American College of Sports Medicine and its annual American Fitness Index.
For 2018, the index puts Arlington in the top spot, slightly outranking repeat winner Minneapolis and outranking Washington DC. Arlington gets tops marks for its high physical activity among local residents and for its easy access to local parks. As well, Arlington also gets credit for its percentage of locals that bike or walk to work.
Other high marks for the area include Arlington's overall low smoking rate, the overall health of local residents and for other healthy behaviors. Arlington also received relatively good scores for personal health, its walkability and for its access to local farmers markets.
Found just across the river from DC, Arlington is home to a large number of parks and green space, along with historic homes and government sites. It's also filled with shops, restaurants, and plenty of things to see and experience.
Add to that its miles upon miles of trails and open space and its easy to see what makes Arlington a special location, from the Washington and Old Dominion Trail to the area's active push to promote biking and walking throughout the area. Now additionally noted as America's fittest city, Arlington certainly offers plenty of appeal for locals and visitors alike.
Other top winners for the 2018 American Fitness Index of the fittest cities in the nation include Madison, Wisconsin, which gained high marks as home to the nation's most active residents. In addition, Portland, Oregon and Seattle also ranked well in the survey. This is the first year that the index ranked 100 of the largest cities instead of its previous designation of the 50 largest US metros.