Arlington Housing Market Deemed Healthy
Posted by Mark Washburn on Friday, August 24, 2018 at 10:24 AM
By Mark Washburn / August 24, 2018
Comment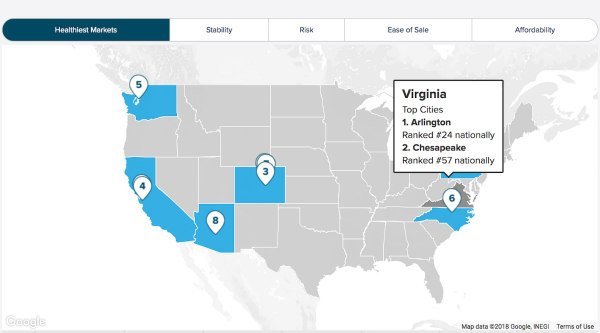 Graphic: SmartAsset
The news is positive for Arlington homeowners, as the location just picked up top honors when it comes to its healthy housing market. According to SmartAsset, a financial research firm, Arlington is at the top of the list for Virginia and also ranks high when comparing it to some of the nation's other large housing markets.
The study credits this to a good supply of homes in the area. SmartAsset takes into account several criteria when predicting whether homeowners in certain areas are at a low risk of losing money when its time to sell their home.
The factors include risk of loss, fluidity, affordability and stability. With Arlington in particular, the area ranks high when looking at housing demand. While nationwide homes stay on the market for an average of more than 52-days, it's less than 42-days in Arlington.
Another comparison shows Arlington also performs well in terms of how much homeowner's spend. While nationwide the average is about 22-percent of income spent on a home, in Arlington it's slightly lower. It should be noted, though, that incomes are generally high in the area.
Other high marks delivered to Arlington were for the low number of owners that have negative equity in their home. The area came in below the national average. Those with negative equity are at an increased risk of foreclosure.
The Arlington housing market does contain some fluidity. On average, local residents stay put for slightly more than 11-years, less time than other homeowners in the state and the rest of the country, on average.
When looking at the rest of the state, Northern Virginia, in particular, has experienced a recent lack of homes on the market. While home sales were down year-over-year a few months back, the area is still considered a healthy and strong market, with active buyers in both lower and higher price points.