Arlington and DC Top Cities for College Grads
Posted by Mark Washburn on Monday, April 6, 2015 at 1:11 PM
By Mark Washburn / April 6, 2015
Comment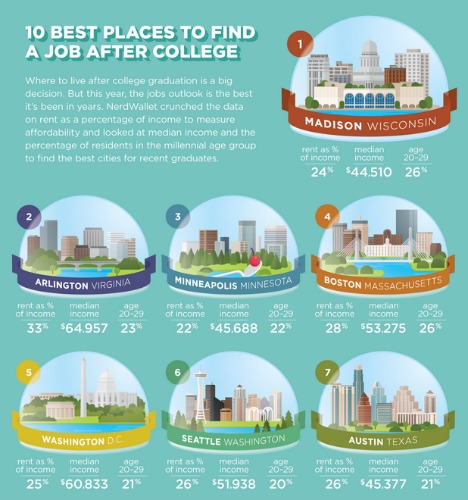 You're armed with a spanking new college diploma and now it's time to get serious, and get a real job and move out of your old bedroom.  Where do you go look for a job?  If you're like many college grads across the nation, DC and Arlington are among the top cities for new graduates to head.  Young job seekers often flock to DC for summer internships, and return when job-seeking upon graduation.  Top median salaries are one reason, government-related jobs are another reason but also it's a city filled with young adults and a thriving social scene that makes it attractive. 
Financial planning website, NerdWallet, put together a list ranking the top 5 best cities for college grads, based on data aggregated for jobs that require a college degree, earn high salaries and a reasonable cost of living compared to earnings.  In DC and Arlington, a record 67% of the workforce is in management, business, science or the arts.  These are jobs that require a bachelor's degree or higher.  In the top 5, the best places for young job seekers are DC; neighboring Arlington; Madison; Minneapolis; and Boston.

NerdWallet looked at local trends as well as incomes.  Educated workers in the Inside-the-Beltway communities enjoy high incomes from good-paying jobs, whether in government or private companies.  In these cities, the young demographic holding a college degree was rewarded with high-paying jobs between $61,000 and $65,000 for DC and Arlington, respectively.  In both these cities, at least 23% of the adult population is under age 30.  Rent in Arlington is approximately 33 percent of income; in DC, rent eats up 25 percent of income.  Many workers in Arlington have jobs across the Potomac in DC but plenty of private employers are in Arlington, like Accenture.  DC is a powerful draw for recent graduates.  This year is expected to be one of the best job markets for recent grads since the Great Recession.  This makes the job outlook outstanding in the U.S., but particularly in the DC metro area.  The study by NerdWallet found 97% of companies plan to hire at least one college graduate this year, up from 84% of companies in 2013-14.