Arlington and DC are Top Cities For Recent Grads
Posted by Mark Washburn on Wednesday, April 6, 2016 at 9:52 AM
By Mark Washburn / April 6, 2016
Comment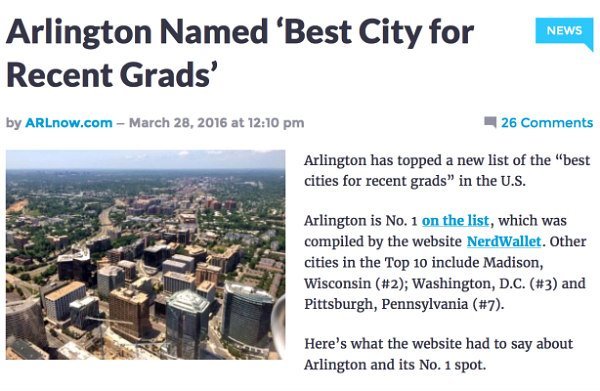 Arlington and Washington, DC top a new list of the Best Cities for Recent Grads in the Nation. College graduation season is just around the corner, and for those 2016 college grads the economy and job numbers are up in the DC Metro area. Location plays a big part where these young men and women begin their professional careers. Most recent grads last year ranked Arlington, Virginia and Washington, DC in their top 3 cities to live and work, according to personal finance website NerdWallet. These cities stand out for their many professional and personal opportunities available for new graduates.
In fact, over 67% of Arlington's workforce find jobs in business, management, science or the arts---fields that require a bachelor's degree or higher. NerdWallet researched 100 of the largest U.S. cities and ranked them for providing the best environments for new college grads focusing on locations where the jobs are: where you can make a living without overspending your paycheck on rent; median earnings; and where grads should look for jobs. Data collected from the U.S. Census Bureau included percentage of population age 25 and older with a bachelor's degree or higher; percentage of population ages 20 to 29; median earnings of residents 25 and older with a bachelor's degree; jobs in management, business, science and arts; rent as a percentage of income; and unemployment rate.
Arlington ranked Number 1 for Best City for Recent Grads 2016. A very well- educated DC suburb, more than 71% of Arlington's 25-and-older population has at least a bachelor's degree, the highest percentage in the country. Arlington is also at the top for the number of jobs in business, management, science or arts, in addition to having residents with high salaries. The median annual earnings is $72,406 for employees 25 and older. Over 21% of the population is ages 20-29. At Number 3, Washington, DC has made NerdWallet's list for the fourth year. Over 60% of the workforce found jobs in business, science, management or the arts. Twenty-six percent work for the government.