Are We Getting a Georgetown to Rosslyn Gondola?
Posted by Mark Washburn on Wednesday, July 20, 2016 at 8:05 AM
By Mark Washburn / July 20, 2016
Comment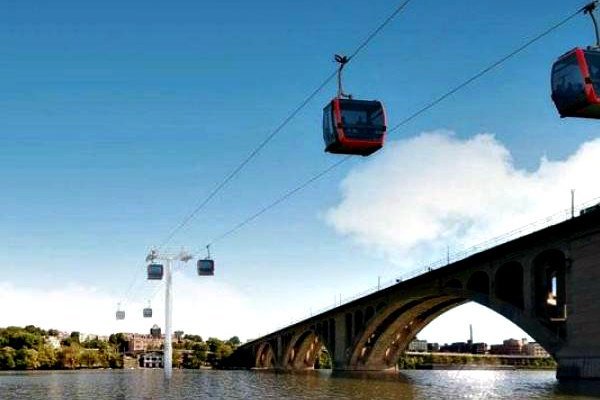 Local leaders are soaring to potentially new heights in efforts to ease transportation woes from Georgetown to Rosslyn. One high-flying idea is to install a gondola high above the Potomac River, potentially significantly easing up on traffic along Key Bridge. It's an idea that was first brought up three years ago but is now getting more careful consideration due to a feasibility study expected to be out this fall.
While some have brushed off the idea as being too far fetched, supporters entertain that gondolas have become more and more popular around the globe, less expensive and less time consuming than perhaps constructing another Metro station for commuters. They point to the number of buses, thousands of vehicles and heavy foot traffic as evidence that more needs to be done to handle all of the daily commuters and visitors.
Area businesses, developers and government agencies have all chipped in funds to see if the idea has a real chance of taking off in the future. The study will determine the costs involved, plus what the design could look like and perhaps even determine what ridership would be if the gondola plan should even happen. Consultants are also taking in feedback from area leaders and residents.
The proposal is to connect the half-mile stretch between the Rosslyn Metro Station and Georgetown with an approximately four-minute long gondola ride, though it is not without some potential setbacks. Dealing with Georgetown would mean necessary approval must be gained in order to touch land belonging to the National Park Service, plus there will be federal agencies, regulations and preservation concerns to deal with, too.
When the first phase of the study is finished this fall the executive committee in charge of researching the gondola proposal will then share its findings. After that, a decision will be made on whether to push ahead with further study on making a Georgetown to Rosslyn gondola a reality.