All About The Wharf
Posted by Mark Washburn on Saturday, February 25, 2023 at 3:41:08 PM
By Mark Washburn / February 25, 2023
Comment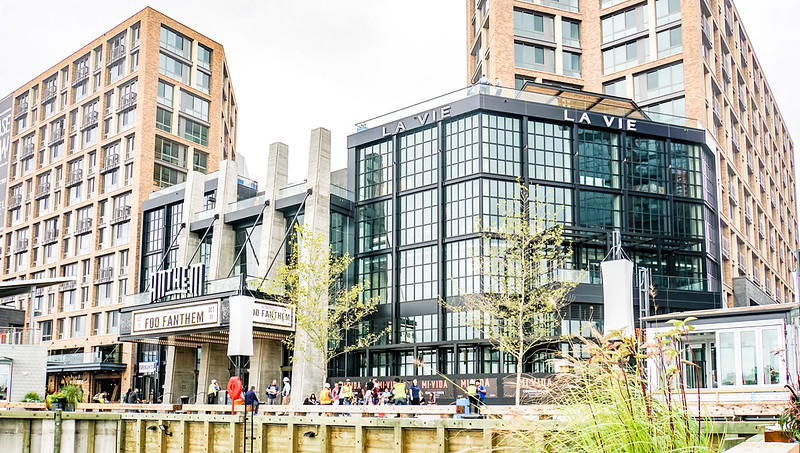 Photo: Ted Eytan
As one of DC's newest and most popular mixed-use developments, The Wharf continues to attract new residents and visitors, alike. Now home to residential buildings, live music venues, restaurants, piers, and docks, plans for the area really took on momentum in the early 2000s.
The idea was to begin redeveloping and reconnecting portions of DC's southwest quadrant with the downtown area. That redevelopment took a page out of history.
The Wharf name is apparently what the Southwest Waterfront was known as in late 19th and early 20th centuries The long-standing Municipal Fish Market is still open in The Wharf, as it has been since the early 1800s.
The area hosts the largest population of "liveaboards", or rather year-round boat residents, on the East Coast. The Wharf is also home to the city's longest pier, called District Pier, and a transit pier, which includes a floating stage, a seasonal ice rink, and serves as the spot for water taxi service.
The pedestrian mall at The Wharf is now home to numerous restaurants, shops, and boutiques. The first phase of the two-phase development known as The Wharf opened in late 2017, while the second phase of development was finished this past fall.
Built up along the Potomac River, there are now three condo buildings and four apartment buildings at The Wharf. There are also some large office buildings, including the only one in DC that extends over the water.
Three hotels are located at The Wharf, plus you'll find a concert hall, year-round entertainers, and the Capital Yacht Club with day docks. Water Taxi service from The Wharf takes people to places like Alexandria and Georgetown.
There are also some boat tours that leave from The Wharf, while you'll find paddleboard and kayak rentals, too. A free community shuttle, meanwhile, transports riders to and from the neighborhood from locations such as the National Mall.
Search Southwest Waterfront Developments