All About Kingman Park and Lily Ponds
Posted by Mark Washburn on Friday, July 31, 2020 at 9:28 AM
By Mark Washburn / July 31, 2020
Comment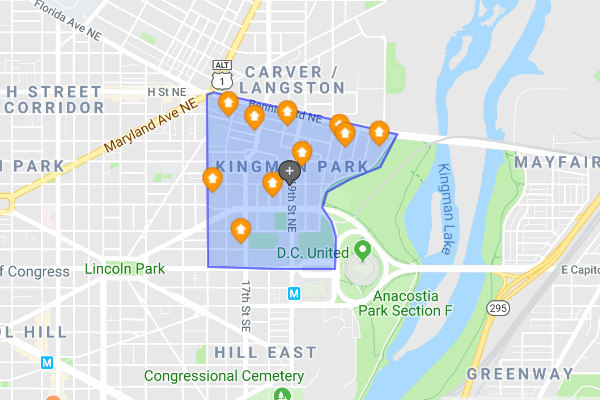 They may not be among DC's best-known neighborhoods, but Kingman Park and Lily Ponds definitely still have a lot to offer area residents. Found in the extreme northeast section of Capitol Hill, the two neighborhoods are relatively more affordable than others in the area.
Still, the average home price in Lily Ponds has gone up by more than 50-percent in recent years. Close to the Anacostia River, many of the homes of Lily Ponds date back to the 1920s, although some homes have been constructed since then.
The quiet neighborhood also provides a large park with a playground and a bike trail. While Lily Ponds does not offer its own Metro stop, the closest one is only about a mile away from the homes.
Also close to the river, Kingman Park is made up of mostly brick rowhouses in a two-story design. A majority of these homes date back to the late 1920s when Kingman Park first developed as a primarily middle class, African American community.
Now a designated historic district, Kingman Park provides easy access to multiple bus lines, a nearby Metro station and it offers relatively easy access to major roadways in the area for the convenience of commuters. Another plus of living in Kingman Park is its easy access to RFK Stadium.
The multi-sport stadium is a popular spot for festivals and more. For outdoor recreation, residents can easily head to Kingman Island for hiking, birding, biking, boating or other outdoor activities.
Of course, yet another plus of living in Kingman Park is that the neighborhood sits close to several other popular DC neighborhoods. This opens up the opportunity for experiencing all that DC has to offer.
From the vibrancy of H Street to the independent shops of Capitol Hill, it's all easily within reach living in Kingman Park.