Alexandria Top City For Millennials
Posted by Mark Washburn on Monday, September 21, 2015 at 4:30 PM
By Mark Washburn / September 21, 2015
Comment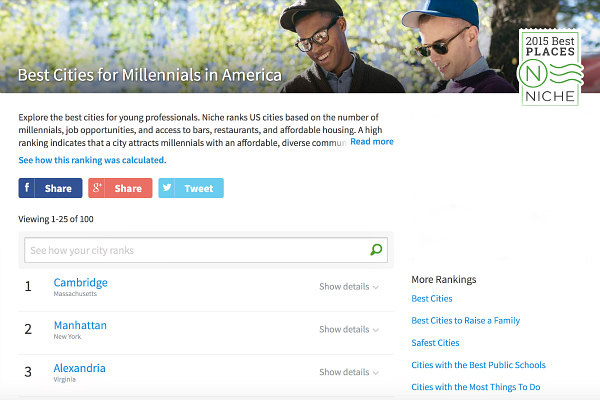 Alexandria, Virginia is taking the nation by storm as it continues to attract young professionals, aged 25-34, to move here for jobs either in DC or northern Virginia.  Why? Alexandria is a natural destination for young adults for ease in commuting with the Metro nearby, access to restaurants and coffee bars, yoga studios, affordable housing for a metropolitan area, and a lot of job opportunities.  Almost one in four in Alexandria is a millennial, placing this DC-area community at #3 by Niche.com for "Best Cities for Millennials in America" right now.  Niche.com is a neighborhood and college review site that tracks millennial behavior.  Alexandria ranks as a top city based on access to work and play; job opportunities for young professionals; and has a stellar nightlife scene with plenty of restaurants and bars.

Niche.com ranks best cities for young professionals.  The site reports a high of 24.4% of Alexandria residents are between the ages of 25 to 34 years old, up 6.2% since last year.  While Cambridge, Massachusetts tops the list for "Best Cities for Millennials" by Niche.com and Manhattan, New York ranks #2, DC comes in at #7 as one of the best cities for young professionals with a 21.5% of the population as millennials, up 3.4% from last year.  Alexandria, as well as DC, gained a grade of A+ for number of restaurants, although DC was graded with an A for access to bars, compared to a grade of B- for Alexandria.

Rankings were calculated by factors such as easiest commute (an A+ for Alexandria); residents aged 25-34 (24.4%); millennial newcomers this year (6.2%); unemployment rate (a low of 3.6%); access to coffee shops (A); residents who have a college degree or above (60%); and affordable, diverse community (54% resident diversity).  Alexandria continues to attract new college graduates as they begin the job search across the United States and begin to prepare their professional lives. perhaps in a brand new city away from home.  Niche.com evaluated 232 cities for millennial behavior and decision-making.