Alexandria Named Top City For Early Retirement
Posted by Mark Washburn on Monday, June 1, 2015 at 11:58 AM
By Mark Washburn / June 1, 2015
Comment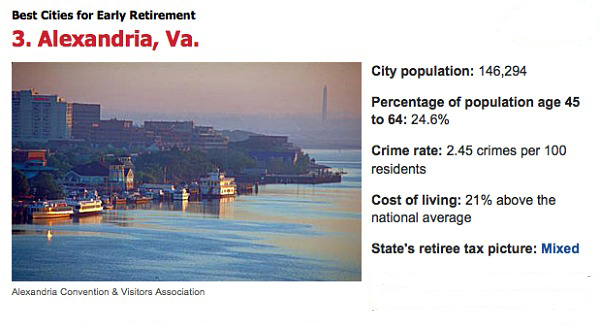 Early retirees who want to pad their savings with an extra paycheck from a part-time job or second career can find a healthy economy to match their needs in Alexandria, VA.  Alexandria, just south of DC, in fact has been named one of the "10 Best Cities For Early Retirement," by Kiplinger Reports.  A stunning high of 21% of non-retired Americans hope part-time work will be a major source of retirement income, according to a Gallup Poll.  DC is just a short ride on the Metro, about 6 miles away.  Alexandria is located on the west bank of the Potomac River near Washington.  Two Metro lines serve Alexandria that will take you straight into DC.  Charming historic districts are near the Old Town and King Street Metro lines in Alexandria.  In fact, they are pleasant walks.  Many bicyclists, walkers and joggers enjoy the Potomac River waterfront in Alexandria and the Mount Vernon Trail.  

Alexandria offers a lot to retirees, especially the lowest unemployment rate of all cities in this Top 10 list.  The federal government proves to be the biggest and most stable employer, which helps DC's suburbs like Alexandria.  Many employees of the federal government live here as well.  While cost of living is 21% above the national average, Virginia does not tax residents for Social Security income and Americans age 65 or older can deduct up to $12,000 of retirement income.  For retirees, Old Town is home to a vital and prosperous downtown with a strong economic base and lots of opportunities for paid or volunteer work.   

In addition to a flourishing local economy, there is a lot to do in DC for active retirees.  Alexandria's close-in location allows access to free attractions like the Smithsonian museums, monuments and memorials on the National Mall.  There are cultural venues like the National Gallery of Art with art exhibits, films, lectures and concerts.  It is a vital neighborhood for culture, dining, shopping, art galleries, nightlife and strolling along the Potomac River waterfront parks.  According to Livability.com, Alexandria's median income is $85,706 and the median home value is $476,700.  Walkability is important to the overall livability of a community.  Alexandria has a Walk Score of 61.  Its population numbers 143,684 residents.  Another factor rates high in Alexandria: access to quality hospitals, doctors and health care providers makes a healthy community.