Alexandria Named as a Top Place to Live
Posted by Mark Washburn on Friday, November 11, 2016 at 3:44 PM
By Mark Washburn / November 11, 2016
Comment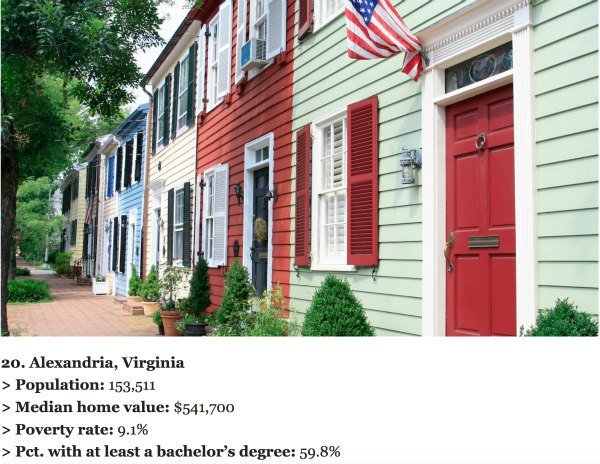 Praised for its impressive attractions and quality of available jobs, Alexandria recently received high marks, making the list of "America's 50 Best Cities to Live". The business website 24/7WallSt.com placed Alexandria as number 20 on the list, with many of the top cities marking lower unemployment than the nation as a whole, and most also offering job growth of at least equal to the national rate.
The website lists Alexandria as having a poverty rate of 9.1-percent, with a little more than 153,000 residents. While the website found a slightly lower percentage of those in Alexandria holding bachelor's degrees than the U.S. census found, it did list a median home value of just under $542,000.
According to 24/7WallSt.com, Alexandria is simply a commute away from larger city offerings, with safe neighborhoods and easy access to DC amenities and schools. The area's high incomes, it says, are likely tied to the high paying jobs of DC, which even when adjusted for the cost of living puts Alexandria's median household income still higher than that of the national median income.
Alexandria also received high marks as a destination for those wanting to relocate, as the city's population growth rate between 2010-2015 grew at more than twice that of the national population growth rate during that same time period. Economists agree, however, that personal factors are more difficult to measure when it comes to deciding on a place to live, as often a personal's individual preference of surroundings plus family support are deciding factors in where to move.
The listing was determined by data ranging from employment growth and affordable housing to education, attractions and restaurants plus crime rates. The website took into account only the 550 U.S. cities with at least 65,000 residents, with the top five cities designated on the list being in Colorado, Idaho, Texas, Georgia and Missouri.