Alexandria is America's Second Safest City
Posted by Mark Washburn on Wednesday, January 23, 2019 at 11:34 AM
By Mark Washburn / January 23, 2019
Comment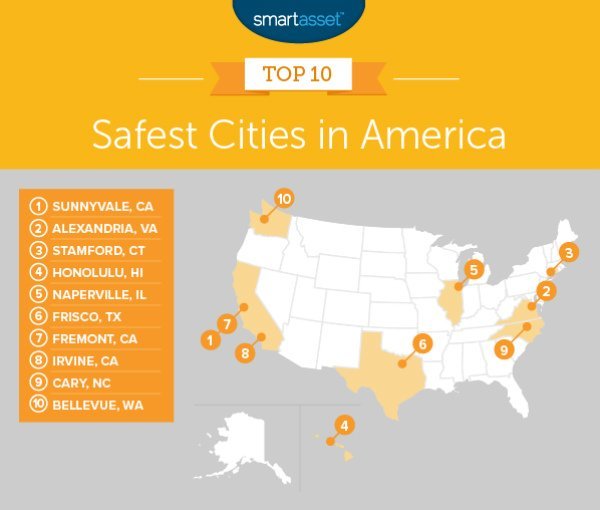 Graphic: SmartAsset
There's yet another reason to choose Alexandria when it comes to a great location to live, work and play. The city just received the honor of being named one of "The Safest Cities in America" for 2018.
Alexandria took the number two spot in a ranking by SmartAsset, a personal finance website. To come up with the latest ranking, analysts looked at seven different factors, including things like property and violent crime rates, air quality, traffic deaths, the percentage of workers who commute alone and the percentage of area residents who overdose on drugs or drink excessively.
In particular, SmartAsset gave Alexandria high marks for road safety, with one of the lowest rates for traffic deaths in the country. Alexandria also boasts a low number of violent crimes and a low number of property crimes.
For 2018, only Sunnyvale, California edged out Alexandria in terms of safety. Like Alexandria, most of the "Safest Cities in America" sit on either the east or west coast.
Alexandria moved up two spots this year, as the city was ranked the fourth safest city in the same study last year and took the number three spot in 2016. SmartAsset compares the 200 largest cities in the US to come up with its results.
The enjoyment of a safe community is just one of the reasons why people flock to Alexandria. Right along the Potomac River, the city is also known for its charming boutiques, its vibrant arts culture and its extraordinary 18th and 19th century architecture.
The walk-able city is filled with things to do, from exploring Old Town to taking a boat cruise or taking in watersports. Alexandria also offers several options in waterfront dining and waterfront parks. From its cobblestone streets to nearby landmarks and DC attractions, there's much to see, enjoy and discover in Alexandria.