Adams Morgan Recognized Nationally As Top Neighborhood
Posted by Mark Washburn on Friday, October 10, 2014 at 4:32 PM
By Mark Washburn / October 10, 2014
Comment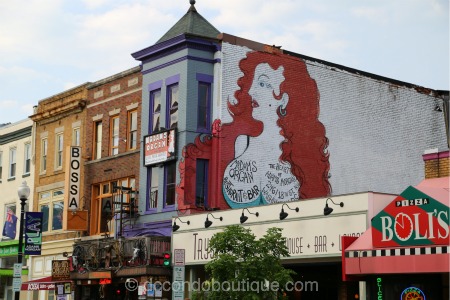 Adams Morgan is finally getting its due.  We have known for a long time that this northwest DC neighborhood is a go-to area for restaurants, farmer's markets, nightlife destination, cool bars, music venues and Latin-infused lounges but now a national organization has pronounced Adams Morgan as one of the best neighborhoods in the nation.  Adams Morgan is bounded by Connecticut Avenue to the southwest, Rock Creek Park to the west, and 16th Street to the east.  Its primary hot spot is 18th Street and Columbia Road.
The nonprofit organization for civic planners, The American Planning Association, put Adams Morgan on its annual list of 10 of the country's best neighborhoods in 2014.  Adams Morgan was highly ranked for its historic row houses, annual festivals, murals, farmer's markets, lively nightlife and cultural diversity.  Adams Morgan is home to one of the city's most diverse populations.
Besides its colorful storefronts, iconic row houses and large Spanish-speaking populations, Adams Morgan is a fun neighborhood to walk in with its independently owned shops, global cuisine, and variety of parks, including Rock Creek Park.  Adams Morgan is friendly to pedestrians and bicycles, and two Metro Stations---Woodley Park and Dupont Circle---are within walking distance of the neighborhood, making it very easy to visit Adams Morgan day or evening.
There is a lot of good diverse housing as well.  The western end of Adams Morgan is home to attractive row homes and sophisticated condo buildings.  The community, like Dupont Circle and other hot neighborhoods, also has a noticeable selection of small boutique condo buildings and contemporary loft condos.