A Look at Bates in NW DC
Posted by Mark Washburn on Monday, November 16, 2015 at 9:50 AM
By Mark Washburn / November 16, 2015
Comment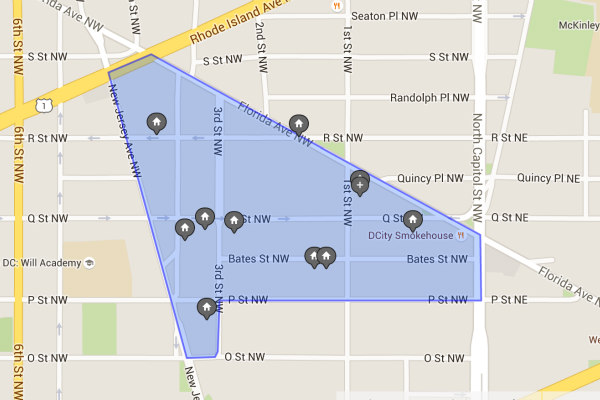 The northwest neighborhood of Bates is an emerging neighborhood north of Union Station.  It is also commonly referred to as Truxton Circle, East Shaw, and Dunbar Shaw.  The sales activity is picking up.  The neighborhood is named after Bates Street NW, which stretches along east-west through the Bates neighborhood.  The boundaries are Florida Avenue and North Capitol Street to the east, Rhode Island Avenue to the north, New Jersey Avenue to the west, and 3rd Street and O Street to the south.  Bloomingdale is better known, an adjacent neighborhood that is also talked about as another emerging neighborhood in DC.  It features Grand Victorians on the north side of Florida Avenue.  Two Metro Stations on the Green and Yellow Lines, Shaw-Howard University and Mount Vernon Square are within walking distance

Bates is close to downtown with predominantly modest homes.  House hunters are discovering this neighborhood given its proximity to the center of DC, and abundant public transportation options, including the Metro although many residents choose to walk to their jobs or bike.  These homes are prime stock for buyers who are eager to renovate their home and settle into for a few years.  Many are young professional couples and young couples who are starting families.  Previously a neglected neighborhood, Bates has become a popular alternative for house hunters who are looking for solid reasonably priced homes in a close-in location.  

Bates Street is an attractive, tree-lined street with house facades in a variety of attractive colors, contemporary numbers on front doors, and flowers in the yards.  The H Street Corridor is nearby, and has a lot of entertainment and dining options.  Bloomingdale and Shaw are close by, neighborhoods that are opening new restaurants, bars, and home to a popular farmer's market.  Development has been moving forward.  The neighborhood is architecturally diverse.  Many of the row houses are 2-story homes with brick facades, some with bay windows or English basements.  Most of the homes were built in the 1900s and are close to the street.  Some of the row houses have been divided into two units, a spin-off design from renowned DC architect Harry Wardman.  Additionally, there are boutique condo buildings.  As the homes are transitioning from rental properties to purchased homes, many of the houses have been fixed up and nicely renovated.