A Look at Arlington Teardowns
Posted by Mark Washburn on Wednesday, September 13, 2017 at 3:05 PM
By Mark Washburn / September 13, 2017
Comment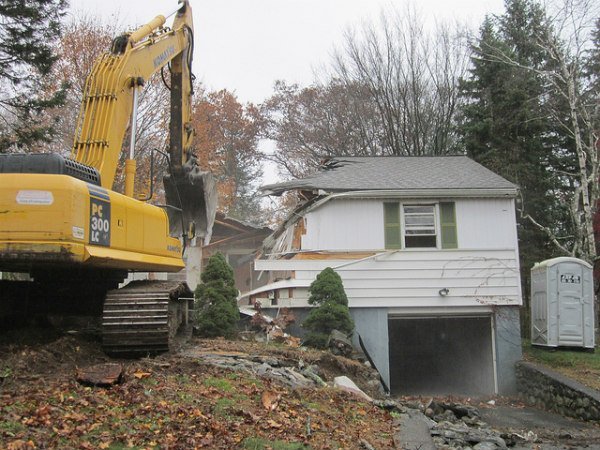 Photo: Bill Rosenfeld
Arlington real estate is booming, as more and more developers and homeowners choose to replace some of the area's older homes with much larger and more modern designs. While a half-century ago the smaller, single-story homes popular in Arlington were more than adequate, these days many homebuyers are searching for two-story homes with even more square footage, and for many neighborhoods that means tearing down the old and starting from scratch.
It's led to hundreds of homes being torn down and virtually just as many new homes going up on the now empty lots. The new homes do have to follow rules in terms of setbacks, lot coverage and height, but that's not always enough to please everyone.
Some area residents have complained about the loss of mature trees from the new construction and about the pure size of the homes going in. There's also some concern that the character of the neighborhood is being lost to new construction in Arlington.
Despite this, many developers argue they're delivering homes that new buyers want. By tearing down old homes they're able to construct homes with open floor plans, high ceilings, master suites and oversized kitchens, all characteristics that often aren't found in older homes. Some recent estimates suggest that about half of Arlington homes were built around or prior to the 1950s, generally constructed with smaller rooms that don't easily adapt to the more modern desires of many homebuyers today.
Even those homebuyers more interested in preserving the original footwork of the old homes are finding that a teardown is more feasible. Often, homeowners uncover things like foundation problems, wiring hazards, plumbing issues and problems with energy efficiency that can't easily be remedied in a cost-effective way.
There are some situations, though, in which teardowns are not allowed. County leaders have discussed how to better notify homeowners about these situations, especially in the case of narrow lots. In most cases, though, as long as the new home fits in with other regulations, the teardowns can happen, bringing more and more new options to those searching for new construction in Arlington.