20015 Is DC's Least Affordable Zip Code
Posted by Mark Washburn on Monday, April 21, 2014 at 6:47 AM
By Mark Washburn / April 21, 2014
Comment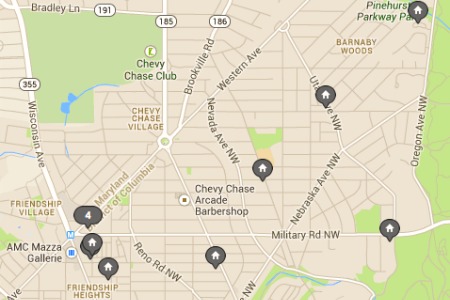 A new map by Zillow was released last week to much fanfare across DC, calculating housing affordability based on a monthly payment of $2,000, or 18 percent of a buyer's monthly income, assuming a $500,000 home purchase price.  The color-coded map from dark red to dark green revealed the 20015 zip code as the least affordable, which includes the pricey DC neighborhoods of Chevy Chase DC and Friendship Heights.  After 20015, the 20003 zip code for the Capitol Hill neighborhood comes in 2nd, and the 20007 zip code for the neighborhoods in Georgetown, Glover Park, Foxhall, and Massachusetts Avenue Heights comes in at #3.  Longtime DC residents would not be surprised by these findings.

The map reveals DC's eastern neighborhoods (NE) as most affordable and the western neighborhoods (NW) as least affordable.  At Zillow, affordability is measured by how much of a person's monthly income is spent on a mortgage payment.  With a combination of rising home prices and mortgage rates, the median household in DC spends 22% of their income to afford the mortgage payments on the median home.

In 2013, the median household income was $91,689 in DC.  The typical DC homebuyer spent $1,357 each month on mortgage payments for homes, not condos, assuming a 20% down payment on a median home valued at $343,600 on a 30-year fixed mortgage with a 4.3% interest rate.
20015 Real Estate For Sale:
20015 Real Estate Listings