20008 is DC's Most Expensive Zip Code
Posted by Mark Washburn on Friday, October 19, 2012 at 10:24:41 AM
By Mark Washburn / October 19, 2012
Comment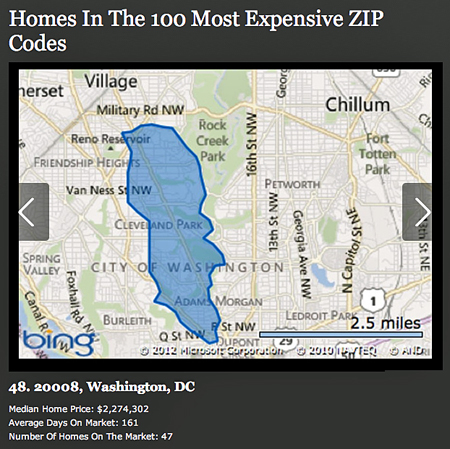 Forbes released its list of the 100 most expensive zip codes for single-family homes and 20008 was ranked #48 in the country and tops in the DC area.  The 20008 zip code includes the pricey DC neighborhoods of Kalorama and Massachusetts Avenue Heights as well as Cleveland Park and Woodley Park.
Per the Forbes report, the median listing price of a home in 20008 was $2.27M and the average days on market was 161. The time frame for this listing data was June 28, 2012 - September 28, 2012 and only utilized data for homes, not condos. 
If you are interested in learning more about real estate in the 20008 zip code, here is a resource to view active 20008 real estate listings.