1745 N Nearing Completion
Posted by Mark Washburn on Friday, September 14, 2018 at 10:33 AM
By Mark Washburn / September 14, 2018
Comment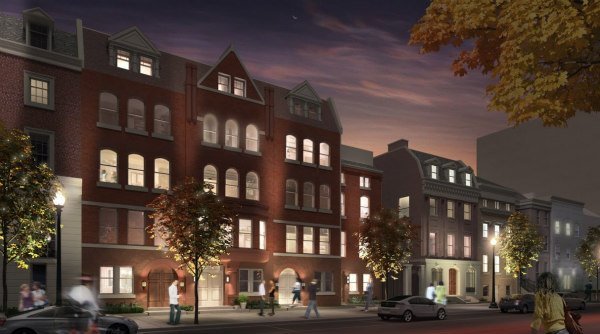 Reimagined row homes and modernly appointed flats join together to form one of the most impressive and sophisticated new residential options coming to Dupont Circle. 1745 N is quickly nearing completion, bringing with it renovated row houses and stylish new construction flats to the neighborhood.
Sophisticated Historic Row is made up of turn-of-the-century row houses, reimagined into more modern designs and priced starting from the high $600,000s. Meanwhile, some of the penthouse units within Historic Row are currently priced in the multi-million dollar range.
Options here include mostly one- and two-bedroom homes, complimented by exposed brick walls, wide-plank hardwood flooring, as well as some balconies and terraces. As well, the century-old row homes also feature upscale additions including quartz countertops, high-end appliances and Italian cabinetry. The homes are additionally complimented by oversized floor plans, complete with high ceilings and large windows, allowing for plentiful natural light to flow throughout the homes.
Meanwhile, the Modern Flats of 1745 N also feature desirable wide-plank hardwood flooring, some balconies or terraces and quartz countertops. Options come in mostly one- and two-bedroom floor plans, constructed within a new building sitting just across the courtyard, behind the existing row houses of 1745 N.
The new flats are priced starting in the $500,000s, in a more modern and contemporary setting than the accompanying row houses, although both reflect some of the most desirable, upscale additions that new buyers are searching for in the DC area. While 1745 N sits along a tree-line street, it's also conveniently close to many of the popular sites and attractions of the surrounding area.
Mere steps from the closest Metro station, the property also sits within a short walk of various options in nearby shopping, dining and entertainment in Dupont Circle. As well, the property sits less than a mile from the White House.
Inquire For Additional Information About 1745 N