17 Solar Coming To Kingman Park
Posted by Mark Washburn on Thursday, August 28, 2014 at 10:06 AM
By Mark Washburn / August 28, 2014
Comment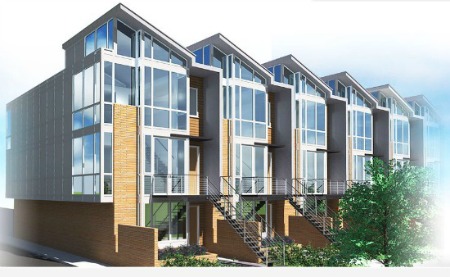 Eco-friendly brand new 17 Solar is one of DC's most progressive communities offering 26 glass, solar-powered modern homes near "hot" 17th Street, NE between D and E Streets.  The development integrates solar cells and high-efficiency finishes to its design that look modern and reduce energy consumption.  The 17 Solar townhomes will be delivered in March 2015. Urban living with its mix of luxury condos and townhomes near the H Street, NE corridor, 17 Solar is also close to Capitol Hill.  The H Street Corridor is one of the "it" neighborhoods in the District, with a wealth of restaurants, bars, theaters and nightlife.  Trolley service is expected to begin in the near future.  Residents are close to both the Union Station Metro and the Eastern Market Metro.

East of Capitol Hill and 2 blocks south of the Atlas District, 17 Solar is a unique development featuring modern interior finishes in an innovative low-rise design.  The 2-story townhomes sit atop flats offering an urban mix of residences in one of DC's most vibrant communities.  The 26 modern residences located at 401-417 17th Street, NE, feature 9 flats (950 SF each), 7-stacked 2-story townhomes (1,600-1,800 SF each), and 2 corner townhome condos (1,800 SF each).  The bay windows echo the existing homes in the neighborhood using modern materials of glass and incorporating a sloped roof to reflect the homes' solar collectors oriented toward the south reducing energy consumption.  Architecture firm A2 DESIGN, INC designed the project.

Amenities at 17 Solar include private, off-street parking, private outdoor yards or patios, and lofted bedrooms.  The townhomes at 17 Solar start at $599,000 and the first floor flats start at $375,000.