1661 Crescent Place: Adams Morgan Best Addresses Co-op
Posted by Mark Washburn on Friday, October 26, 2012 at 12:42:26 PM
By Mark Washburn / October 26, 2012
Comment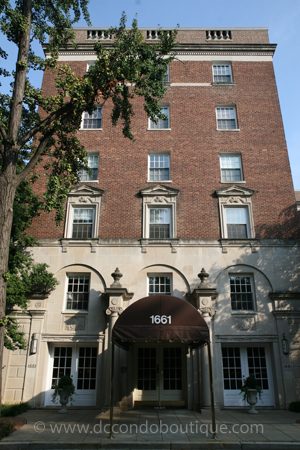 Located in Adams Morgan just off 16th Street is 1661 Crescent Place, a James M. Goode Best Addresses Cooperative.  1661 Crescent is a Georgian Revival building designed by Joseph Younger that opened as a co-op in 1926.  Younger left his mark on DC also designing the Kennedy-Warren Apartments, Sixth Presbyterian Church and the Blackstone Hotel.

1661 Crescent Place is a six-story, red-brick building with prominent limestone trim and classical screens of columns.  Upon opening in 1926, original owners included military officers, foreign service officers and two Senators.     Other notable residents included Senator Thomas Gore (grandfather of Gore Vidal), portrait photographer Walter Bachrach and Edith Kermit Roosevelt (granddaughter of  President Theodore Roosevelt).  These dignitaries were drawn to 1661 Crescent's architectural beauty and location just off highly-fashionable 16th Street.

The original prices for units at 1661 Crescent when it opened in 1926 ranged from $6,000 for an efficiency to $29,000 for a seven room unit.  Recently, a unit at 1661 Crescent sold for $1.34M.  Currently there are two units available for sale at 1661 Crescent Place including a meticulously renovated 3 BR / 2 BA / 2,440 SF unit listed by TTR Sotheby's International Realty for $1.295M.  Here is a resource to learn more about and view active 1661 Crescent Place listings.