11th Street Bridge Park
Posted by Mark Washburn on Friday, January 11, 2019 at 3:40 PM
By Mark Washburn / January 11, 2019
Comment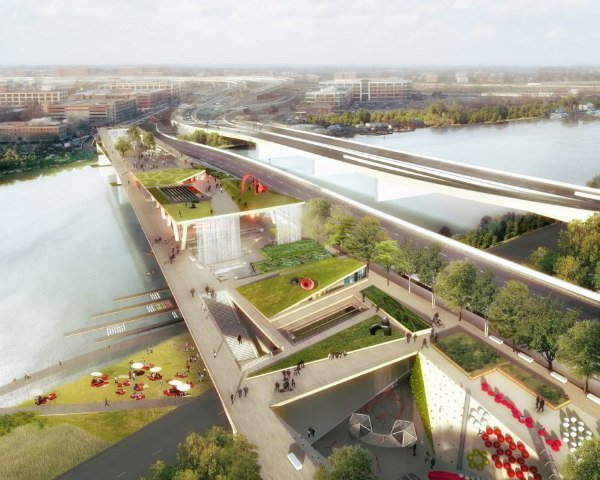 Graphic: OLA and Olin Studios
DC has some big plans for its visionary new 11th Street Bridge Park. Modeled after such locations as New York's High Line, the park will eventually transform an old Anacostia River crossing into DC's first elevated public park.
Scheduled to open in 2023, the park plans to link up the Capitol Riverfront with Anacostia, together sharing in cultural space and green space, high above the river. While bringing in such features as an amphitheater and an environmental center, the park aims to cover about three-acres with plazas, performances and public art.
The grand plan, however, involves much more than just an eventual park constructed in the area. Supporters hope that it will also someday serve as more of a way to bridge the divide between two sides of the river, divided not only by the water but also divided by economic disparity.
It's hoped the park is simply the beginning of development in the region, with public and private sectors coming together to invest in public space that helps benefit an entire area, no matter the side of the river. While future plans to construct and open the park are one thing, the park also needs to attract visitors.
A nonprofit leading the charge for the new park is also looking for ideas to tackle that part of the plan. It's teamed up with Virginia Tech grad students to figure out how to do just that.
It's also spending money for public art to lead from area Metro stations to the park, making it more attractive to visitors, and it hopes to encourage public buses to come to the area more frequently, especially on the weekends. In the meantime, supporters continue to look ahead to the coming years, hoping that a multi-million dollar park might be one of the best solutions for shaping DC's future.